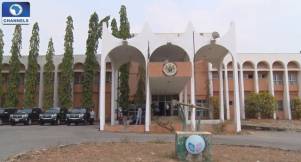 The Kogi State House of Assembly has announced plans to serve an impeachment notice on the Deputy Governor of the state, Mr Simon Achuba.
The Speaker of the House, Honourable Momoh Jimoh made the plans known at a news conference in Abuja on Friday.
Honorable Jimoh denounced his impeachment by five members of the House adding that the notice of impeachment would be served on the Deputy Governor for allegedly instigating crisis among members of the House of Assembly.
The Speaker also announced the suspension of the five members who announced his impeachment saying their action is a clear violation of the rules of the House as the five members failed to form a quorum before announcing his impeachment.
Five lawmakers in a 20-member House sat on Tuesday and purportedly removed the Speaker.
The lawmakers also chose Umar Imam as the new Speaker of the House.
Friday Sanni, who briefed reporters about the impeachment, said the Speaker was impeached for not carrying other members of the House along in the affairs of the House.
He also claimed that since the new Governor, Yahaya Bello and the Speaker are both from the same senatorial district, the Speaker should vacate the seat.
Meanwhile, 15 members of the House who were seen at Hon. Jimoh's residence insist Hon. Jimoh remains the Speaker and that their signature was forged to perfect the impeachment.