The FMDQ OTC Securities Exchange in collaboration with Channels Television has launched the FMDQ OTC-CHANNELS TV Ticker Tape in Lagos.
The launch, which was attended by officials of the FMDQ OTC Securities Exchange and Channels Television, seeks to increase the coverage of Business and Market News especially Bonds, Treasury Bills and Currency Trading amongst other things.
The Managing Director and Chief Executive of the FMDQ OTC Securities Exchange, Mr Onadele Koko, the Executive Chairman/ CEO Channels Media Group, Mr. John Momoh believed that the partnership would deepen Nigeria's financial market.
Mr Koko explained that it was important to pick Channels Television to partner with because "Channels Television has a reach of over 20 million viewers and international coverage.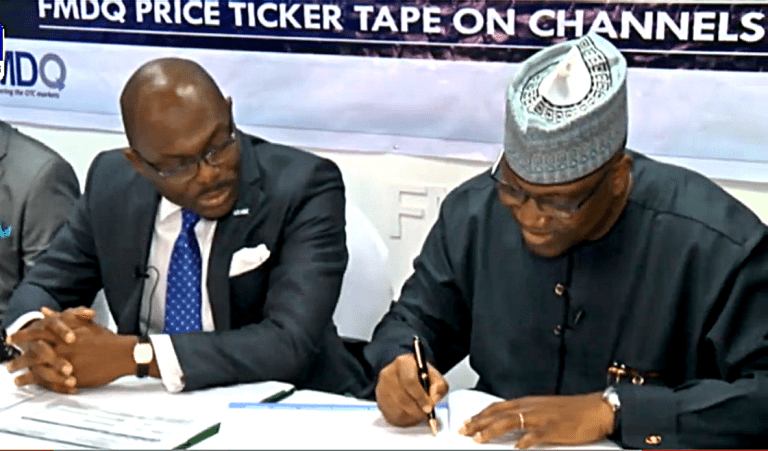 "Channels Television has been awarded best television service in Nigeria, 10th time in a roll."
In terms of coverage, Mr Koko noted that Channels Television has a wide reach in Business, Politics and Entertainment.
"We are happy with this partnership and believe its going to grow stronger, we are starting with this Ticker Tape, but we believe over time, we will extend it beyond the Ticker Tape".
The Executive Chairman and CEO, Channels Media Group, Mr John Momoh expressed appreciation for the partnership. In his remarks, he said that "Over the past 20 years, Channels TV has established itself not just as a news leader, but also as a leader in Business News.
"We believe that business, investments, economy, finance and the financial markets are all parts of the news universe, but all human activities revolves around money, the only language that cuts across tribes, culture and national boundaries".
Mr Momoh noted that Business and market news analysis have always been a critical components of Channels Television's programme offerings.
"Indeed we are pioneers and remain number one in terms of the volume, consistency and the quality in this specialised field of news and information.
"Our business, market news and programming have contributed in no small measure to the growth and development of Nigeria's financial servicing sector.
Mr Momoh added that since inception in 1995, Channels Television has continued to design niche business programming which includes News Track, Business Morning, Capital Market and Business Incorporated.
"All of them characterised by excellent guest features, robust and informative discussion and a depth of knowledge, insight and scale.
"We are excited today that we are expanding our coverage footprints to the FMDQ OTC Securities and Exchange, the home of listed governments, cooperate bonds, treasury bills, currencies trading and other financial derogative.
"From now on, viewers can get information about the FMDQ OTC market prices on Nigeria's number one station, on our flagship Business Morning, Business Incorporated and throughout the day join News Track in the business segment.
"This would include daily analysis, prospective and insights from treasury managers, market dealers and research analyst."
Mr Momoh further noted that it is a unique service offering, a novelty that would go a long way in deepening the volume and value of market information on debts and derogatives that are available to millions of Nigerians.
He said the Ticker Tape, reports and analysis would strengthen and further promote transparency, price discovery and integrity of Nigeria's financial market as keenly watched by investors around the globe.
"This partnership comes at a time when the government is focusing intensely on how to make investment flows come into Nigeria, domestic, overseas finance and offerings to revitalise the economy, so we are right on queue.
"In closing, I will like to thank the board and management of FMDQ OTC PLC for this epoch making event and assure you of our commitment to the project.
"To all our viewers on this very special day, be rest assured that Channels Television would continue to strive to cover more grounds in the world of business, here at home, the African Continent and around the world.
"Channels Television is your home for the News, it is also your home for Business News."