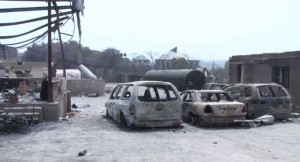 Members of the Inquisition Team from the Department of Petroleum Resources (DPR), have stormed Nnewi in Anambra State to begin the inquest into the 2015 Christmas Eve gas plant explosion.
The session of the inquest involves meeting with relations of the deceased, eye witnesses to the incident and the management of the company that was razed.
On Saturday, the leader of the delegation and the DPR Head of Safety Control, Mr Umar Moriki, said that the visit was important so as to confirm that the claims of the management of Chicason Group, about taking care of the welfare of the affected victims and survivors as well as find out the full details of what happened and make necessary recommendations.
The Managing Director of the company, Mr Linus Ilozue, fielded questions on how the incident happened and what led to the loss of lives.
The leader of the delegation demanded to know about the welfare of those in the hospital and a staff member explained that one had been discharged while others were still recuperating gradually.
The relations of the family also confirmed to the team that the management of the company was living up to expectations as some of their houses affected by the explosion, were undergoing reconstruction.
The inquest, according to the team, would move to the next level of obtaining death certificates and other documents from the company after which there would be a debrief which would likely carry some sanctions against the company.
Eight people were killed and several others injured following a gas explosion at a plant belonging to the Intercorp Oil Limited, a subsidiary of Chicason Group located along Onitsha-Owerri expressway.
The bodies were burnt beyond recognition and according to eyewitnesses, the disaster occurred about midday when a consignment of gas was about being transferred to the company's dump, due to leakage, there was a massive explosion which quickly spread to nearby houses wreaking havoc.