Governor Dickson Worried Over Bayelsa's Lowest Allocation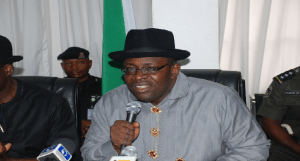 Bayelsa State Governor, Seriake Dickson, has expressed worries over the recent Federal Allocation to Bayelsa State from the Federation Account which he said was the lowest the state had ever received. 
Governor Dickson made the statement while swearing-in the first three Special Advisers to be appointed in his second tenure in office.
The Governor stressed that the allocation of 2.9 billion Naira was not enough to cater for the wage bill of civil servants in the state, which amounts to 4 billion Naira.
He expressed worry over the economic future of the state and advised Bayelsa citizens to seek alternative sources of generating revenue and forget being dependent on the government.
The Governor also said that appointments in his present administration would not be as much as it was in his first tenure.
"The government lacks the fund to cater for the appointees," he stated.
Those sworn in were Dr Boma Spero-Jack, Mr Francis Agbo and Honourable Timipre Seipulu.
Dr Spero-Jack was appointed Special Adviser on Security, Mr Agbo, Special Adviser on Media Relations and Honourable Seipulu, Special Adviser on Treasury and Accounts.