Information Minister Explains Why Anti-Corruption War Looks One-sided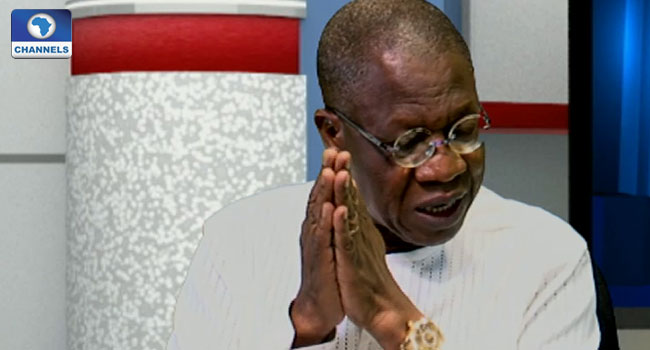 Nigeria's Minister of Information, Mr Lai Mohammed, says the fight against corruption in Nigeria looked one-sided because the indicted persons on trial are connected to one transaction that is currently being investigated.
Mr Mohammed told Channels Television on Sunday that the persons facing trial were all connected to the investigation of how the fund meant for the purchase of military equipment was used.
He claimed that some members of his party, the All Progressives Congress (APC) were also being investigated for other corruption cases which he did not mention.
"If you go to the EFCC today and ask them who are the people that are facing charges before them, you are going to find as many APC and as many PDP [Peoples Democratic Party].
"However, what gives the impression that the fight is one sided is the fact that it is simply one issue that is being investigated now. That is money meant to buy arms which was diverted for other uses and unfortunately, everybody involved in that happened to be in the PDP. From the NSA to others who he had named.
"When you trace this thing, because it is just a particular transaction that is the contract of 2.1 billion dollars that was awarded to equip our soldiers, everybody that you have showed us here have been mentioned as a result of that investigation from that single transaction," the Minister stated.
Also explaining why it takes time to prosecute cases involving indicted persons, he said that from experience, "it takes between 34 days and seven years to convict a low profile criminal but when that criminal is high profile, it takes as long as 10 years to infinity to convict that person".
"We have appealed to lawyers and judges to help us in this fight against corruption. We should not allow those who have been accused of corruption to explore legal loopholes to continuously frustrate prosecution.
On the continued detention and trial of some persons indicted for corrupt practices, the Minister urged those accused to be in a hurry to prove their innocence.
"They should stop employing delay tactics to frustrate the prosecution. None of them are in a hurry to prove their innocence. On the contrary, they are experts in delaying and frustrating prosecution.
"We will not be deterred and we want Nigerians to join in this fight against corruption," he emphasised.
On the ruling party's campaign promises and their fulfilment, Mr Mohammed said the party had had to prioritise its promises to ensure that they could be met.
"When you campaign, you say you will do a,b, c, but when you win election, you prioritise.
"We are still faithful to those promises, but as you have rightly said, when we were campaigning the price of crude was $100 a barrel, today it is $30 a barrel so definitely, we will have to downsize some of the things intended to do but this does not mean abandoning those promises.
"You do not make a budget for four years, you make an annual budget and in this years budget, we have outlined those parts of the policy that we intend to keep.
"Those we cannot keep this year, we will keep in 2017, 2018 and 2019. This is how government works," the Minister pointed out.
He further said that the current administration was focusing on how to redeem its campaign promises, but said that the government was waiting for the approval of the 2016 budget before it would begin to implement its plans.