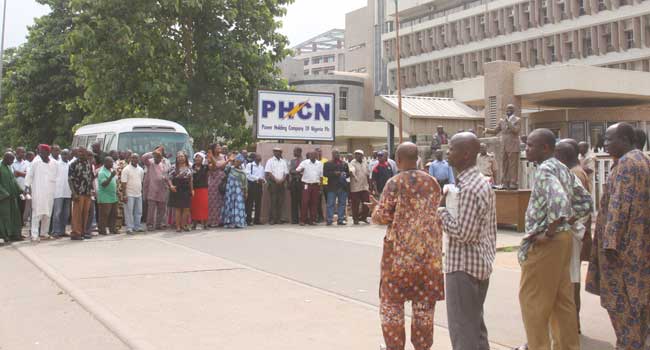 Severed workers of the Power Holding Company of Nigeria (PHCN), are protesting ongoing plans to liquidate the company's assets amidst pending labour issues including outstanding severance benefits of nearly 5,000 workers.
The protest was led by the Chairman of the FCT Council of Electricity Employees, Mr Wisdom Nwachukwu on Monday.
The workers demanded that Federal Government put the liquidation on hold and investigate the rushed process by the Bureau of Public Enterprises and the engagement of a law firm, J.K Gadzama as liquidator, contrary to the provisions of the law on assets liquidation.
They said that 10% equity and 7.5% RSA owed over 50,000 workers by the Federal Government, 16 months outstanding benefits and other outstanding issues in the sub-sector should be concluded before the winding down of the corporate headquarters of the PHCN, as agreed between the Power Sector Labour Union and the Federal Government in 2012.
The Nigeria Union of Electricity Employees (NUEE) on Thursday, urged the Federal Government to suspend the planned liquidation of the unbundled PHCN.
The General Secretary of the Union, Mr Joe Ajearo, made the call during a protest by the workers in Abuja.
Mr Ajaero said that the planned liquidation must not take place without settling outstanding major labour issues in the sector.