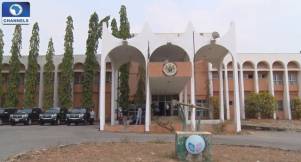 The crises in the Kogi State House of Assembly is reaching a boiling point, as the house had its plenary on Wednesday with the factional speaker presiding.
The plenary held few days after the House of Representatives Committee investigating the impeachment saga in the State House of Assembly visited the state for fact finding.
Lawmakers of the State House of Assembly converged on the Assembly Complex to seat and deliberate, however members of the loyal group to the embattled Speaker, Honourable Momojimoh Lawal, were conspicuously absent.
After the visit of the federal lawmakers to the state, the embattled Speaker told reporters that they would resume legislative function soon.
But the reverse was the case on Wednesday morning, as 10 members, including the factional Speaker, sat in the hallow chamber.
Starting the day's plenary with prayers, the speaker gave his opening speech which was followed by the inauguration of three new members to the House, electing and inaugurating of some principal officers, from the minority whip to the Deputy Speaker.
To the law makers all appears well even without the report of the committee's investigation, as they deliberate on the budget that has passed through the second reading.
The Kogi State House of Assembly is clearly divided into two. With half of the House absent, the legality of the activities will be an issue to be critically looked into for the 23-man House of Assembly.
A member of the House, Kolawole Mathew, who is loyal to the embattled speaker, told Channels Television that the setting was illegal.
He insisted that only seven members sat to swear in three other members, which he said was against the two-third majority recognised by law.
"Nine elected members of the House must be present to seat before you will say a quorum is formed," he insisted.
Another member of the State House of Assembly, Friday Sanni, who was at the swearing in, said that a court judgement had reduced the number of the House to 20.
He also insisted that seven members were enough to form a quorum for the swearing in to hold.
Few weeks ago, five members of the House purportedly sat and impeached the Speaker, hinging their decision on a claim that the embattled Speaker was not carrying the entire house along in his decisions.