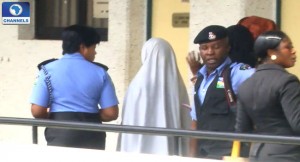 The Spokesperson of the Nigerian Police, Bisi Kolawole said the abducted 14-year old, Ese Oruru, is currently in police custody and in the Gender and Child Care Protection Unit.
The Force PRO added that Ese is undergoing medical and psychological check-up after which she will be reunited with her parents today.
The Force PRO in a short speech read to the media also said an in-house investigation has been launched by the Inspector General of Police to vet the involvement of the Nigerian Police during the abduction period.
She said the abductor, Yunusa Dahiru, who is in police custody, and all other actors in the abduction will be brought to justice.
Ese's mother, Rose Oruru, also at the briefing expressed her joy at the reunion with her daughter.
Both Ese and her mother, are billed to meet with the Inspector General of Police, Solomon Arase, today.
They are billed for a 5PM flight from Abuja to Port Harcourt, en route Bayelsa State.
The Force PRO had yesterday told anxious journalists, who waited for several hours at the Police Headquarters in Abuja, that the inability of Ese's parents to arrive on time led to the postponement of the exercise.
Ese was allegedly abducted eight months ago and moved to Kano for forced marriage.
She was freed on Monday night, following a directive by the Inspector General of Police, Solomon Arase, to the Commissioner of Police in Kano State, Mohammed Katsina.