Borno Govt. Criminalizes Cattle Import To Check Terror Funding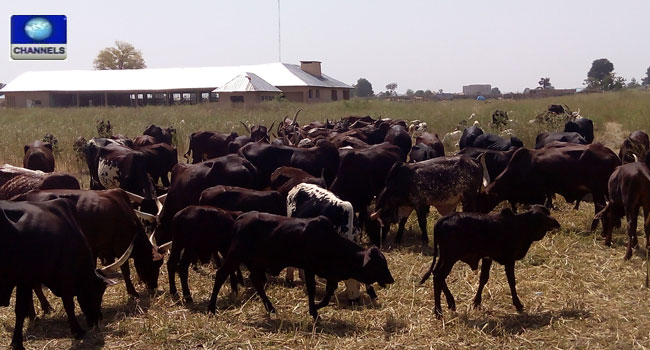 The Borno State Government has criminalised the import of cattle into the state or sale of dried meat.
The embargo followed recent discovery that Boko Haram terrorists now sell stolen cattle to fund terror.
Governor Kashim Shettima has also imposed a civil-military management in cattle market in Maiduguri to enforce stringent conditions in slaughter houses.
This is contained in a government house statement issued by Media Adviser to the Governor, Isa Gusau.
According to the statement, a new management made up of representatives of the Nigerian military, Police, the Department of State Security, Civilian JTF and Government officials has now been assigned to take full charge of the market and henceforth scrutinize sources of all cattle and delay slaughter of certified cattle.
"Our security agencies have reasonably established that most of the cattle being traded at the markets were the direct proceeds of cattle rustling perpetrated by Boko Haram insurgents which were sold at prohibitive costs to unsuspecting customers through some unscrupulous middlemen who use underhand ploy to deliberately disguise the transactions as legitimate."
The Governor said that the discovery led to the temporary closure of the market by security agencies in the state.
"The new management committee is to device strategies to ascertain the sources of all cattle being traded and slaughtered at the cattle markets; ensure that a mandatory period of three to four days is observed on all cattle sold before they are sent to the slaughter house in order to enable interested parties to inspect them," The Governor said.
"Importation of cattle to the state capital through all routes by all sources, other than the Cattle Traders Association is hereby suspended for two weeks from the date of this inauguration.
"In the same vein, the sale of dried meat has been banned as it has been observed that criminal elements resort to this method to legitimize their dubious activities which ultimately end up in funding the activities of the insurgents.
"The Governor forbids all trading activities at the Gamboru cattle markets, Dusuman, Shuwari and Ngom are suspended until further notice."
The Governor presented cheques of 100 million Naira to leadership of the cattle traders and butchers to serve as bailout to thousands of law abiding traders who have been thrown out of business following the recent steps taken.
The members are to use the funds to purchase legitimate cattle that are to be subjected to investigations by the new management committee of cattle markets.