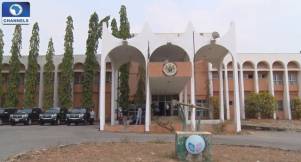 The Speaker of  the Kwara State House of assembly has urged President Muhammadu Buhari and the National Chairman of the All Progressives Congress (APC), John Oyegun, to urgently wade into the crisis rocking the Kogi State House of Assembly before it degenerates into a larger crisis.
Dr. Ali Ahmed on Saturday, wondered how the national leadership of the party and the President could keep silent over the issue.
Dr. Ahmed noted that no one could stop the House of Representatives from taking over the affairs of the Kogi Assembly since the constitution allowed it.
Giving his opinion on the issue in another interview with Channels Television, the House of Representatives member representing Kaima Baruten, Honourable Zakari Muhammad, agreed that section 11(4) of the Nigerian Constitution empowered the House of Representatives to take over the functions of any House of Assembly facing crisis that had affected its plenary.
The crisis began when some five members of the Kogi State House of Assembly sat and impeached the Speaker, Honourable Momojimoh Lawal, claiming that he had not carried the members of the House along in his decisions.
After he was purportedly impeached, the House of Representatives set up a committee to investigate the crisis and proffer solution.
After the committee members visited the state last week, the embattled Speaker expressed optimism that the State House would hold plenary in coming days.
But on March 2, the crisis reached a boiling point, with the house holding its plenary session with the factional speaker presiding.