Nigeria Customs Service Impounds Foreign Frozen Foods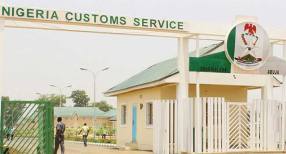 The Nigeria Customs Service Federal Operations Unit, Zone C has impounded a truck carrying 2,000 cartons of foreign poultry products with duty paid value of 53 million Naira.
Briefing newsmen at the command headquarters in Owerri, the Imo State capital, the Area Comptroller of Federal Operations Unit of the Nigeria Customs Service, Haruna Mamudu, disclosed that the truck was apprehended by his men along Benin-Ore axis and the frozen poultry product was neatly concealed with 3,500 cartons of a popular carbonated beverage drink in order to beat the security operatives on the highway.
The Comptroller said that preliminary investigation showed that the smugglers preserved the foreign frozen poultry product with chemicals meant to preserve dead bodies which automatically makes it heinous to human health if consumed.
While displaying the product, the Area Comptroller of FOU Zone C of the Nigeria Customs, Haruna Mamudu said that it was unfortunate that some people were still bent on towing this kind of business in spite of the several warning and measures put in place by the Federal Government to check smuggling.
Comptroller Mamudu warned all smugglers and would-be smugglers to desist from such act as the command would not relent in their fight against smuggling and other related offenses.
Similarly, the command also impounded a truck with Kaduna State registration number MKA 231 ZF carrying 190 cartons of fake 200 milligram tramadol hydrochloride tablets alongside 2,190 cartons of rum without NAFDAC number. The products were later handed over to NAFDAC officials for further investigation.
Other items seized include 406 pieces of used tyres, foreign soaps, second-hand clothing and 24 vehicles without Customs official clearance.
The command disclosed that so far, 12 suspects have been arrested and a total of 65 million Naira underpayment has been recovered.