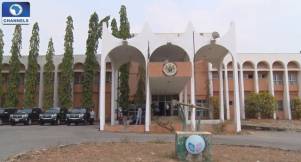 The House of Representatives has approved a recommendation that the National Assembly should take over the legislative functions of the Kogi State House of Assembly due to its leadership crisis.
The recommendation approved on Wednesday was made by a delegation mandated by the House of Representatives to look into what it called illegal removal of the Speaker of the State House.
The House of Representatives condemned the actions of the five lawmakers which were said to be in clear violation of section 92 sub-section C of the Nigerian Constitution.
The House also condemned the action of the Nigerian Police in subverting the Constitution by allowing the actions of the five lawmakers.
The Senate is expected to also pass the resolutions to meet the requirement of the section 11 (4) of the Constitution for the National Assembly to take over the functions of the Kogi State House of Assembly.
Meanwhile, the Speaker of the Kwara State House of Assembly had earlier urged President Muhammadu Buhari and the National Chairman of the All Progressives Congress, John Oyegun, to urgently wade into the crisis rocking the Kogi State House of Assembly before it degenerates into a larger crisis.
Dr. Ali Ahmed wondered how the national leadership of the party and the President could keep silent over the issue.
He noted that no one could stop the House of Representatives from taking over the affairs of the Kogi Assembly since the constitution allowed it.