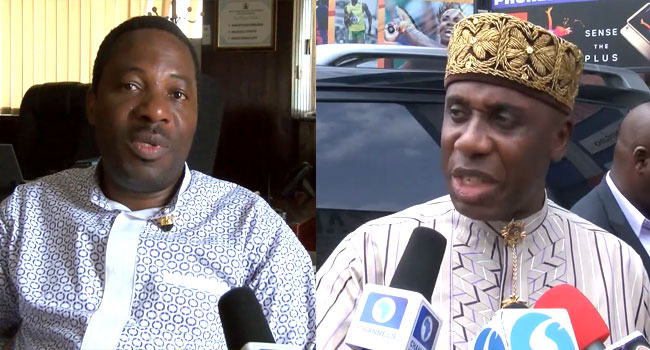 The political tension in Rivers State has continued to gather momentum, as the State and National Assembly rerun election get closer.
This time, with less than one week to the polls, the All Progressives Congress (APC) and the Peoples Democratic Party (PDP) in the state are in a war of words over issues surrounding recent killings and the conduct of the election.
The Minister of Transport, who is also the leader of the APC in the state, Chibuike Amaechi, has temporarily relocated to the state till after the polls
Scores of APC youths are on the streets in Port Harcourt, the capital of Rivers State, as leaders and supporters of the party wait patiently for the former Governor and Minister of Transport who is currently engaging the media on trending issues in Rivers politics.
On his arrival, the Minister told journalists that the government of the day should be made to answer questions about the recent killings in the state.
"The only way to stop insecurity is for the Governor to stop supporting these criminals. He has to stop his party from killing APC members. That is not politics," he said.
He said there was no cause for alarm, as far as threats of insecurity in the state were concerned.
"Tell  them not to be afraid. The President has assured us of security. You will see security that day. Anybody who owns a gun should bring out his gun that day.
"We have one million membership base and if they come to vote, PDP can't defeat us," he said in optimism.
The Commissioner of Information in the state, Austin Tam-George, who is keeping tab with the Minister's statements, believes the reports of killings in the state were cult related.
"Those who were been arrested and are now in police custody are cults kingpins and they have made confessional statements and those people detained have released intelligence that is now being used by the police to track down others," he told Channels Television.
He accused the APC of claiming that every dead person was its member, a situation he said was unfortunate.
The Commissioner insisted that the election was not a do or die affair, assuring Rivers residents that the Governor's promise of a free, fair and credible electoral process would be upheld.
"People should be allowed to make their choices in a violence-free atmosphere," the emphasised.
The people in the streets hope the polls will indeed be peaceful.