Clearance Operations Against Boko Haram Terrorists Heat Up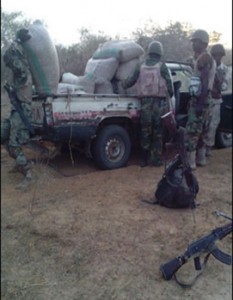 The clearance operations of the remnants of Boko Haram terrorists is gaining momentum in the various axis of the theatre especially in Seven Division area of responsibility, the military said on Saturday.
A spokesman for the Army, Colonel Sani Usman, said within the last 48 hours, the troops were able to clear Boko Haram camps, killed several of the terrorists, recovered vehicles, weapons, equipment and also rescued some persons.
The troops of 151 Task Force Battalion cleared terrorists hideouts in Izza and eight surrounding other villages while troops of 121 Task Force Battalion deployed at Pulka came under attack from suspected Boko Haram terrorists fanning out of Sambisa forest to escape sustained aerial bombardment by the Nigerian Air Force pilots.
The troops successfully repelled the attack, killing 17 suspected Boko Haram terrorists.
They also recovered 12 AK-47 rifles, six AK-47 rifle magazines, one General Purpose Machine Gun, one Browning Machine Gun, one Toyota Hilux vehicle, a 60mm mortar tube, six pieces of 60mm mortar bombs, one belt of 12.5mm ammunition and nine belts of 12.7mm (NATO) ammunition.
Others were three hand grenades and seven boxes of .50mm ammunition.
Troops of 114 Task Force Battalion while on patrol along Bitta-Pridang-Manawashe axis rescued 95 persons suspected to have escaped from Madube and Shuwari general area.
The rescued persons are being screened and profiled.
Also, troops of 115 Task Force Battalion accompanied by some members of the vigilante group in their area also conducted patrol to Dogwaba, Dutse, Mayolarde, Musa A, B and C villages without any contact with terrorists. They have, however, continued to dominate the area and make it secure.
Colonel Usman also said that troops of 117 Task Force Battalion also conducted another patrol around Mildo, Vapura, Mildo, Shelmi, Gubla, Dar and Hyambula settlements in
In the process, 27 persons, who escaped from Mayo Ali village, were also rescued. One of the female rescued persons gave birth to a baby boy few minutes after the rescue.
Both mother and child are being cared for at the unit's Regimental Aid Post and are doing fine.
On their part, Seven Division Garrison in conjunction with Civilian Joint Task Force, arrested one Mallam Ashiru Zarami at Mainok, a suspected Boko Haram terrorists logistic officer at Mainok with food items.
The suspect has been handed over to the Joint Intelligence Processing Centre.
In a related development, another suspected Boko Haram terrorist, Mallam Abubakar Kime voluntarily handed over himself to troops and Civilian JTF at Benisheikh, Borno State. On interrogation, he claimed to have escaped from Kalmari village close to Alagarno forest.
The troops of 81 Battalion also laid an ambush for Boko Haram terrorists at their crossing point from Sambisa forest near Komala and Musafanari villages.
Sensing danger, the approaching terrorists disembarked, abandoned their vehicles and fled into the bush leading back to Sambisa forest shortly before approaching the killing zone.
Nevertheless, the troops opened fire and wounded several of the terrorists.
The troops recovered the abandoned Toyota pickup vehicle and 28 Bags of groundnuts.
The Seven Division Strike Group also encountered an ambush by suspected Boko Haram terrorists on their way to Banki.
Colonel Usman said they successfully fought it out, killed four terrorists and recovered AK-47 rifles, two mobile telephone handsets and a Shilka shell loaded with explosives.