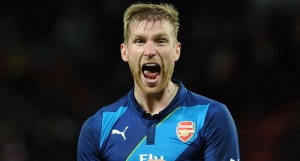 Per Mertesacker says Arsenal can rediscover their "killer instinct" by attacking Barcelona at the Nou Camp.
The Gunners head into the second leg of the Champions League last-16 tie having lost 2-0 at Emirates Stadium in February.
Arsène Wenger's side were knocked out of the FA Cup by Watford on Sunday, but Mertesacker believes a strong attacking performance in Barcelona can get their season back on track.
"You have to give us credit because we kept going against Watford and created chance after chance," he said. "But at the moment we lack that killer instinct. We need to work on that if we want to be successful in the Premier League and the Champions League.
"We were not relaxed against Watford. Even in the box we played and always found good positions, with the man in the right position but we lacked that relaxation even to hit the target. We did not do that sometimes. We missed it too often.
"We cannot afford to concede against Barcelona. We have to go there and try to attack, no matter what, that is the only possibility we have. We can be fortunate to have such big game in front of us.
"They are the ultimate team at the minute, so we are straight away under pressure and we have to go away from home. I think the confidence is there, we are just missing something.
"The season is not over. We play in a confident way, we maybe lack that bit at the end. The desire to play together and to be good as a team is there, you can feel that."