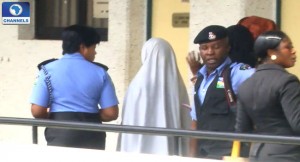 The trial of Yunusa Dahiru, the alleged abductor of 14-year old Ese Oruru at a Federal High Court in Yenagoa, the capital of Bayelsa State has been adjourned till March 21.
The adjournment, according to the judge, became necessary as both the defence and prosecution counsels did not bring their cited authorities in their filed applications to court.
Yunusa also referred to as Yellow, is standing trial for alleged abduction, coercion, seduction into illicit intercourse, sexual exploitation and unlawful carnal knowledge of Miss Oruru.
He pleaded not guilty to all.
At Monday's hearing, the prosecution counsel J. O. Alata filed a motion asking the court to grant him permission to take the evidence of the prime witness, Miss Oruru in private, but the defence counsel, Kayode Olaosebikan, opposed the motion.
'A Case Of Romeo And Juliet'
The prosecution also filed a motion opposing an application of the defence regarding Yinusa's bail, reminding the court that it took the Nigerian police over six months to apprehend Yinusa and that if granted bail he would abscond.
It further urged the court to disregard the application.
After the hearing, a lawyer, who is part of the defense counsel's team said they believed it was 'a typical case of Romeo and Juliet' and that they do not believe that Ese was 13 years old.
Charges against Yunusa were filed after Miss Oruru was handed over to her parents after six months of her alleged abduction.
The prime suspect in the Ese Oruru's abduction saga has been in the custody of the Police in Yenagoa since his arrest in Kano.
There were reports that he already gave his statement to the Bayelsa State Police Command and divulged those who were aware of his plans to abduct Ese Oruru.
The Commissioner of Police, Peter Ogunyanwo, told Channels Television's correspondent that another accomplice to the crime was still at large.
He said that the Police had the names and other data of persons that would likely be invited for interrogation as the investigation progresses.