Obiano Launches Book On Achievements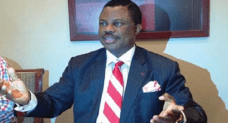 Anambra State Governor, Willie Obiano, has launched a book which captures his administration's policies and programme since he assumed office.
Governor Obiano unveiled the book on Sunday at the Professor Dora Akunyili Women Development Centre in Anambra State in southeast Nigeria, as part of activities marking his two years in office.
The 588-page book captures the developmental strides of the governor in critical sectors of the state.
Governor Obiano, who dedicated the successes recorded in the book to the people of the state, appealed for more support to enable him do more for the benefit of all.
Earlier the governor announced to the people of Anambra State that a very good foundation had been laid for sustainable development in the state since the inception of his administration.
He pointed out that the development strategy of the state in keeping afloat despite the present economic crunch in the country was his ability to define his vision and mission for the state.
Governor Obiano said that the vision and mission were hinged on four pillars of his administrative blueprint – agriculture, industrialisation, trade and commerce, and oil and gas.