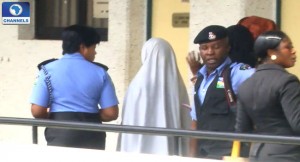 Justice Ajiya Nganjiwa of the Federal High Court, Yenagoa has granted Yunusa Dahiru a.k.a Yellow, bail with stringent conditions over his arraignment for a five-count charge bordering on abduction, illicit affair and rape of 14-year-old Ese Oruru.
Yinusa Dahiru was granted bail of three million Naira and two sureties of like sum who must present three years tax clearance receipts to be verified by the court registrar.
Also, the two sureties who must be within the jurisdiction of the court, must be a title holder and a civil servant of Grade 12 above.
Counsel to Yinusa, Kayode Olaosebikan in his written address brought the application for bail in pursuant of sections 158 and 162 of the administration of Criminal Justice Act 2015 Section 36 of the constitution of the Federal Republic of Nigeria.
While speaking, he argued that it is a settled principle of criminal jurisprudence that granting bail is at the discretion of the court which shall exercise such powers judicially and judiciously.
He gave the assurance that the accused in line with the affidavit deposed to support the bail application would be present to stand trial.
The prosecution counsel, James Anata, in a 10-paragraph counter affidavit stated that it was difficult to arrest the defendant and bring him to court because he was protected by the Islamic Council, adding that granting Yinusa bail would enable him to escape and abscond from trial.
In his ruling, Justice Nganjiwa relying on Sections 158 and 162 of the administration of criminal justice noted that he has taken into consideration the argument of the two counsels and without hesitation wants to grant the accused bail in line with the powers of the court.
"In consideration of the application, what is taken into consideration is that the offence is bail-able and that the accused is presumed innocent until proven guilty. I am aware that the offence he is accused of is serious but that does not foreclose bail.
"That the accused might jump bail, it is incumbent on the court to impose conditions that would make the accused appear for trial. I hereby grant bail with three million Naira and two sureties of like sum residing in the jurisdiction of the court. One must be a title holder while the second surety must be a civil servant not less that Grade 12.
"The accused must not travel out of the country without the knowledge of the court. He is also to deposit his international passport in the court.  The court registrar must verify the claims of the sureties."
He also added that the defence counsel must also sign an undertaking on the appearance of the accused for trial.
Justice Nganjiwa adjourned the case to April 19 for hearing on the application of the prosecution counsel to hear Ese Oruru's evidence on camera.