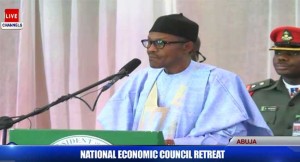 The President has opened a 2-day National Economic Council (NEC) retreat in Abuja, Nigeria's federal capital territory.
In his key note address, President  Muhammadu Buhari took participants through random policy projections in four selected sectors; agriculture, power, manufacturing and housing.

The President told his audience which includes the Vice President, Prof. Yemi Osinbajo, state governors, ministers and CBN officials that decisions reached at the retreat will not be final but only contributions for economic development and subject to review as they progress.
He highlighted the need for Nigeria's agricultural sector to be able to ensure local food production for food sufficiency, as more funding and appropriate resources must be provided to achieve this.
Mechanized farming must also be promoted in Nigeria with the provision of feeder roads to transport crops to production plants and mills, while states increase support to community farmers and operators.
Delving into the power sector, President Buhari said that 10,000 megawatts of electricity must be provided in the next three years remaining for his administration, of which 3000 megawatts must be achieved by the end of 2016.
To ensure his administration meets these targets and put a stop to power outage, he said that the process of privatization must be concluded in order for Nigerians to reap its benefits.
He went on to say that more security should be provided for pipelines and encouragement and incentives for power companies to operate.
The National Economic Council Retreat provides a forum for in-depth discussions by members of the policy actions that the states and the Federal Government could consider in order to stimulate the economy.
Forum looks into avenues available to cut costs and enhance public revenues among other measures.