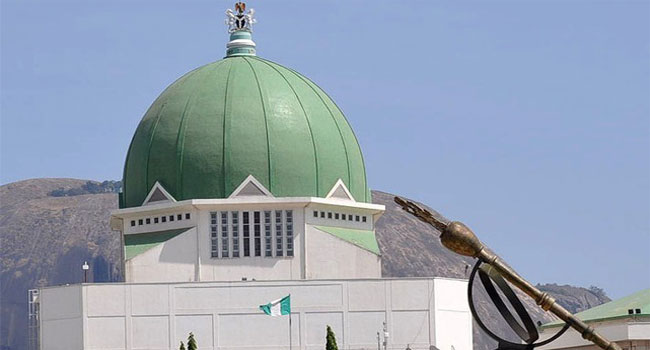 The National Assembly in Nigeria has passed the 2016 budget of 6.06 trillion Naira.
The budget passed on Wednesday by the Senate and the House of Representatives was 17 billion Naira lower than the figure of 6.07 trillion Naira presented by President Muhammadu Buhari to the National Assembly in December.
Addressing reporters after the passage of the budget, the chairmen of Appropriation Committees in the Senate and the House of Representatives said that for the first time, the National Assembly had reduced the size of the aggregate expenditure, consequently reducing the total recurrent expenditure, deficit and borrowing plan.
The Senate Committee on Appropriation had earlier presented a budget of 6.06 trillion Naira to the Senate for passage.
In its report, the Committee set recurrent expenditure at 2.6 trillion Naira, capital expenditure at 1.5 trillion Naira and fiscal deficit at 2.2 trillion Naira.
It observed that the executive presented the budget late to the National Assembly and this had subsequently delayed the passage.
The Committee also noted that the budget, as presented by the executive, was fraught with inconsistencies, as some Ministers disowned their budgets.
It also recommended that going forward, the Budget Office must work with Ministries Departments and Agencies (MDAs) in preparing the budget to avoid the problem of inadequate revenue for MDAs.
The journey to the passage of the 2016 budget has been contentious and fraught with acrimony.
Ever since President Buhari laid the 2016 budget before a joint sitting of the National Assembly, the budget has been a sore point for the new administration.
Reports first emerged that the budget was missing, then there were reports that it was doctored, then padded and finally the National Assembly admitted that the budget was filled with inconsistencies.
After months of trying to salvage the situation, the National Assembly Appropriation Committees finally completed work on the 2016 budget and presented it before the Senate and House of Representatives.
In the Senate, the chairman of the Appropriation Committee, Senator Danjuma Goje, gave the highlights of the budget.
He also read out the observations made by the committee on the budget.
The same procedure played out in the House of Representatives.
The 2016 budget will now be sent to President Buhari for assent.
However, it is one thing for the budget to be approved by the President it is quite another thing for the executive to implement the budget, as envisaged by the federal lawmakers.