Bayelsa Tribunal Fixes April 11 To Decide On Inspection of Election Materials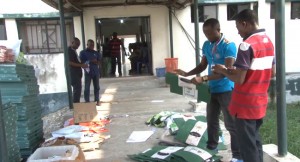 Justice Kazeem Alogba has fixed April 11 for ruling on whether the APC candidate in the Bayelsa governorship election, Timipre Sylva, can inspect the materials used for the polls.
The Balyesa Governorship Election Petition Tribunal on Thursday heard an application filed by the governorship candidate of the All Progressives Congress (APC), Mr Timipre Sylva, to inspect election materials used for the December 5, 2015 and January 9, 2016 governorship election.
Counsel to Mr Timipre Sylva, Sebastian Hon, had moved the motion hinged on seven grounds.
He urged the Tribunal to grant the request, since INEC, which conducted the election and in possession of the items sought to be inspected, is not opposing the application.
According to him, in law, the facts deposed to in an affidavit and not challenged by way of counter affidavit are deemed admitted by the force of law.
He argued that it was wrong of Governor Seriake Dickson to claim that Mr Sylva's claim was vague when the documents sought to be inspected were well pleaded in the petition and in line with section 151 of the Electoral Act 2010.
Opposing the application, lawyer to Governor Dickson, Tayo Oyetibo, urged the Tribunal to reject the application on the ground that it lacked merit.
Oyetibo insisted that the request of the petitioner was vague because it failed to name the maker of the items sought to be inspected
He also argued that the petitioner failed to give reasons he wanted to inspect the election materials, adding that the motion violates Section 104 of the Evidence Act because the mandatory fee for certification of the materials has not been paid by the petitioner.
Among the materials sought to be inspected are the ballot papers, Form C4 and duplicate copy of the Certificate of Return issued to Governor Seriake Dickson.