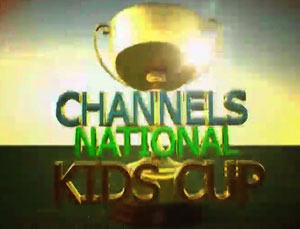 The Technical Committee of the Channels National Kids Cup has cleared 32 teams that would compete in Season Eight of the Lagos preliminaries.
Over 60 schools sent in entries and after a thorough screening process, the committee pruned it down to the required number.
According to the committee, the selected schools adhered to the rules and regulations of the competition; particularly in respect to the golden requirement of featuring players under the ages of 13.
The draw for the tournament will hold on Tuesday, April 12 while action will commence from the April 19 and run through to 22. Sixteen teams will clash at the Onikan Stadium while the others will play at the Campos Square mini stadium.
Leading the list of selected schools is last year's Finalist Uncle Bayus from Ikorodu and Daemm Group of Schools, Daleko. Command Children's School, Ojo, Toydam Children's School, Gbagada, Christlead Nursery & Basic School and Green Haven Montessori School also passed the screening process.
List Of Selected Schools
1. ST. FRANCIS NURSERY & PRIMARY SCHOOL, MARYLAND
2. DONMEN SCHOOLS, AJEGUNLE
3. ISAACVILLE NURSERY & PRIMARY SCHOOL, KETU
4. ROCKFORD PRIVATE SCHOOLS, IKORODU
5. ST. JOSEPH NURSERY & PRIMARY SCHOOL, AGEGE
6. EXCEL IMMACULATE SCHOOL, GOWON ESTATE
7. INNERCITY MISSION NURSERY & PRIMARY SCHOOL, OREGUN
8. MARYLAND CONVENT PRIVATE SCHOOLS
9. NEWHALL INTERNATIONAL SCHOOL, LEKKI
10. CATONY ROYAL SCHOOLS, IBEJU-LEKKI
11. SUPREME EDUCATION FOUNDATION SCHOOL, MAGODO
12. STRAIGHT GATE SCHOOL, MAGODO GRA
13. GREAT TRUST BASIC ACADEMY, APAPA
14. CHRIST ASSEMBLY PRIMARY SCHOOL, OLODI-APAPA
15. TOYDAM CHILDREN SCHOOL, GBAGADA
16. COMMAND CHILDREN'S SCHOOL, OJO
17. CHRISTLEAD NURSERY & BASIC SCHOOL
18. MAS-MAS NURSERY & PRIMARY SCHOOL, MILE 12
19. DAEMM SCHOOLS, DALEKO
20. ST PAUL'S ANGLICAN PRIMARY SCHOOL
21. IBC KIDDIES NURSERY & PRIMARY SCHOOL
22. REVIVAL PRIVATE SCHOOL
23. LYNCREST SCHOOLS, IKORODU
24. BOLS INTERNATIONAL SCHOOL, IPAJA
25. AL-FARUQ INTERNATIONAL SCHOOL
26. COMMUNITY PRIMARY SCHOOL, ABULE EGBA
27. GREEN HAVEN MONTESSORI SCHOOL, ISHERI-NORTH
28. HELPERS INTERNATIONAL SCHOOL, IGANMU
29. UNCLE BAYUS NURSERY & PRIMARY SCHOOL, IKORODU
30. NATIONAL NURSERY & PRIMARY SCHOOL, YABA
31. DARMAN FOUNDATION SCHOOL, IFAKO
32 THE FOUNDATION SCHOOL, SURULERE