Motivational Speaker Urges Youths To Develop Entrepreneurial Skills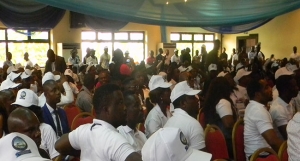 The youths in Cross River State Central Senatorial District have been urged to develop their skills for self-empowerment rather than relying on white collar jobs to make ends meet.
Speaking during a one-day Career Coaching Summit, a Lagos-based motivational speaker, Muyiwa Afolabi, said excellence cannot be bargained, adding that youths must imbibe the spirit of self-empowerment as opportunities abound in the state and beyond in order to excel.
The career coach's speech was titled 'Cross River Central Youths: Developing a passion for Excellence'.
The Senator representing Cross River State Central Senatorial District, Mr John Owan Enoh, has promised his constituents effective representation through advocating and proposing bills that will render individual and collective support to meet many demands geared towards giving them a positive future.
Senator Enoh said he will continue to remain firm to all the promises made to his constituents to better their lives as the career day will be an annual event in the Central Senatorial District throughout his stay in office.
The Summit was held in Ikom Local Government Area of Cross River State.