Nigeria Qualify For ITTF World Junior Championships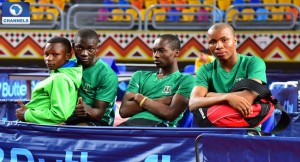 Despite its inability to feature in the 2015 edition of the ITTF African Junior and Cadet Championship in Mauritius, Nigeria returns to the world stage at junior level after joining Egypt's male team to secure a place in the 2016 ITTF World Junior Championships holding in Pretoria, South Africa.
Top seed, Egypt, continued their unbeaten run in the competition to seal their place at the World Juniors, after beating Congo Brazzaville in the semi-final to make it to the final at the International Table Tennis Federation (ITTF) African Junior & Cadet Championship holding in Algiers.
Nigeria's road to South Africa was not without efforts, as the West African giant had to fend off host – Algeria in the quarterfinal before setting up a semi-final clash against the highly-rated Tunisia.
As the last match on Day Two of the championship, the clash between Nigeria and Tunisia had all the suspense expected of such game, being the deciding match to determine the two first teams to qualify for the World Juniors.
Algeria Junior Open Champion, Tunisia's Omar Ammous could not save his team from the hand of the Nigerians despite winning his match against Azeez Solanke with Amadi Omeh and Abayomi Animasahun recording emphatic victories over Saadaoui Mootezz and Oueslati Raed.
Omar Ammous tried to restore parity for the Tunisians but the skills of Nigeria's Amadi Omeh was too much for him to handle as he fell 3-1 to concede an overall 3-1 defeat to Nigeria.
Nigeria and Egypt will battle for the Junior Boys' team title while Tunisia will be aiming to complete the three World Championship continental slots when they confront Congo Brazzaville in the third place match on same day.
In the junior girls' team, the semi-final pairing will see Egypt clashing against Angola while Nigeria will take on host, Algeria, in the second semi-final tie.
The winners of the semi-final matches will automatically qualify for the World Juniors while the winner of the third place will complete the continental three team slots.