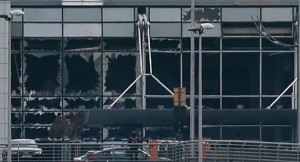 Belgian investigators have charged two men with aiding last month's Brussels suicide bombers.
Mohamed Abrini, believed to have helped prepare the November 13 Paris attacks, was seized on a Brussels street on Friday and charged on Saturday.
Prosecutors said he confessed to being the "man in the hat" seen at the city's airport with two suicide bombers on March 22. That further confirmed close links between the two operations.
In a statement, prosecutors also said they had confirmed that a second fugitive seized separately on Friday in Brussels was indeed the man seen with a third suicide bomber on March 22 who struck shortly afterward on the Belgian's capital's metro.
Reuters reports that he was identified by officials as Osama K. and widely named in local media as a 28-year-old Swede called Krayem .
He was also filmed buying bags used to carry the Brussels bombs and his fingerprints were found, like Abrini's, in an apartment used as a bomb factory and safe house for the Brussels attackers.
Also like Abrini, Krayem was identified as associating with the prime surviving Paris suspect Salah Abdeslam in the days and weeks before the November bloodbath that left 130 people dead.
As with other suspects in both Paris and Brussels attacks, police believe Krayem returned from fighting with Islamic State in Syria via refugee boats last summer reaching Greek islands.
Abrini was tracked down the day after police released new images of "the man in the hat" pushing a laden baggage trolley similar to those of the two suicide bombers alongside him.
Abrini, 31, was well known to police as a petty criminal and drug dealer who was a regular at the bar run by the Abdeslam brothers in the Molenbeek district of Brussels which is home to many other Moroccan immigrant families. Prosecutors said he told them that he had sold the hat he used to conceal his features.
But while pleased with the performance of Belgium's hitherto much criticised security services, Prime Minister Charles Michel warned that further threats to Europe were still live: "We are positive about the recent developments in the investigation," he told a news conference.
"But we know we have to stay alert."