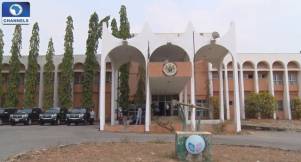 The crisis rocking the Kogi State assembly deepened on Tuesday as members of the pro-Imam faction of the House suspended ten members of the factional group led by the embattled Speaker, Momoh Jimoh-Lawal.
The group, led by Umar Imam, announced the suspension at the floor of the assembly after a report of a committee set up to look into the crisis.
The five-man committee led by Honorable John Abah, in its findings, said that the crisis caused in the House were unnecessarily heated up by some people with vested interests.
The committee also aligned with the position of the Attorney-General of the Federation, Abubakar Malami, who is alleged to have said that the sealing up of the Kogi Assembly was not necessary as the crisis had not led to break down of law and order in the state.
Meanwhile, the House of Representatives has summoned the Attorney-General of the Federation over his alleged comments that the National Assembly was wrong to have taken over the duties of the Kogi State House of Assembly.
In a motion of urgent public importance sponsored by Nicholas Ossai and unanimously supported by most lawmakers, the House described the comments of the Attorney-General as a direct attack on the National Assembly.
The Senate agreed with the House of Representatives to take over the legislative functions of the Kogi State House of Assembly after its leadership crisis degenerated into a situation where two persons claimed to be Speaker of the House.