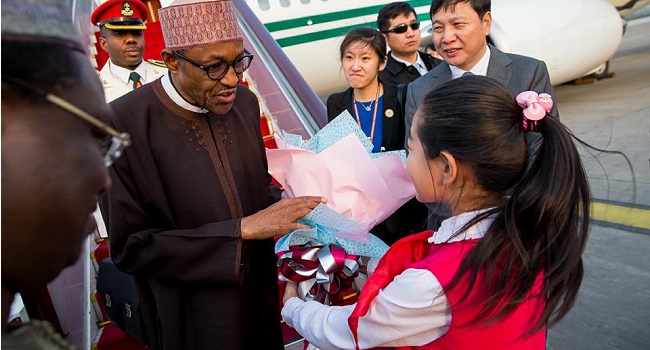 The Industrial and Commercial Bank of China Limited, the world's biggest lender and Nigeria's Central Bank on Tuesday signed an agreement on yuan transactions.
The Director General of the Foreign Ministry's African Affairs Department, Lin Songtian, told reporters that the agreement "means that the renminbi (yuan) is free to flow among different banks in Nigeria and the renminbi has been included in the foreign exchange reserves of Nigeria".
According to Reuters, the agreement was reached following a meeting between Nigerian President Muhammadu Buhari and Chinese President, Xi Jinping.
"Borrow Cheapest Possible Money"
The agreement came before President Buhari attended the official opening ceremony of the Business Forum on China-Nigeria Production Capacity Cooperation holding in Beijing, China.
A Nigerian government official had over the weekend said Nigeria was considering the possibility of issuing Chinese panda bond to make up for the deficit in the 2016 budget.
Addressing reporters after a breakfast meeting with the business and investment community early on Saturday in Lagos, Nigeria's commercial city, Finance Minister Kemi Adeosun said the government's objective was to borrow the cheapest possible money.
The breakfast meeting focused on the imperatives for fiscal discipline, investment and diversification of the domestic economy in the face of strong local and international headwinds such as the steady decline in oil prices and weak global economic growth.
President Buhari is in China on official visit aimed at securing greater support from Beijing for the development of Nigeria's infrastructure, especially in the power, roads, railways, aviation, water supply and housing sectors.
At the official opening of the forum were Chairman of National Reform and Development Commission, Mr Xu Shaoshi, Nigeria's Minister of Industry, Trade and Investment, Okechukwu Enemalah, National Security Adviser, Babagana Monguno and Minister of Foreign Affairs Geoffrey Onyeama.