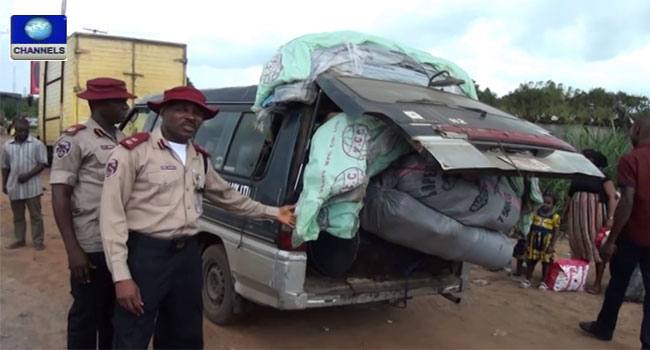 Worried by the high rate of road accidents recorded on major highways across the country as a result of over loading, the Federal Road Safety Corps (FRSC), says it will clamp down on drivers found culpable.
FRSC Corps Marshal, Mr Boboye Oyeyemi gave the warning on Wednesday when he visited the Kaduna State Sector Command.
He said the commission will soon embark on massive enlightenment campaign at motor parks, mosques, churches and other public places on the need to avoid overloading of vehicles plying the highways.
The FRSC boss stated that over 63 deaths have been recorded so far within the first quarter of the year due to over loading and speeding.
He also said the commission will wage a total war against non-compliance on the use of seat belt by motorists.
Mr Oyeyemi expressed worry over the increase of road crashes across the country which he said could be avoided if motorists adhere to the safety rules.
To reduce the crashes, he urged his officers to increase their level of operations by ensuring that all obstructions and broken down vehicles are removed on major highways and roads.
He also urged the officials to shun all forms of corrupt practices that will tarnish the image of the commission, promising that his administration will continue to improve on their welfare.
One other strategy being adopted by the commission to reduce road accidents is the continuous meetings with officials of NURTW and tanker drivers on the need to make the roads free and safer for all users.