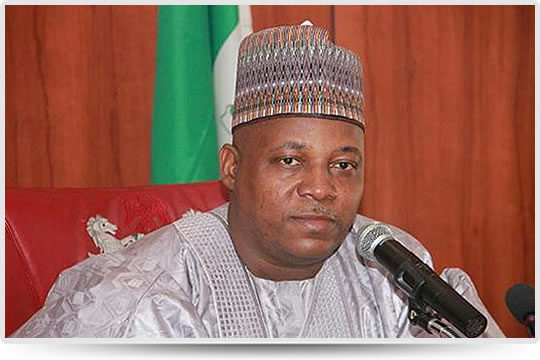 Governor Kashim Shettima says the residents of Borno State in northeast Nigeria have earned the respect of the world.
Governor Shettima made the statement during the 22nd convocation ceremony of the University of Maiduguri (UNIMAID) held in the state capital.
The Governor also commended both staff and students of the University for their courage, despite the security challenges in Borno State.
"The people of Borno and anyone living in Maiduguri, including the students of this university have earned the respect of the world.
"To live in the circumstances under which you lived in the past few years with bombings and shootings and insecurity, and to have the courage to continue to come and teach and learn, and continue with your lives is indeed a remarkable achievement for any people," he said.
Governor Shettima and his Niger State counterpart, Abubakar Bello, who are both alumni of UNIMAID, renewed the hopes of undergraduates and the newly inducted alumni from their personal experiences.
The Executive Secretary of the National Universities Commission, Professor Julius Okojie, who represented President Muhammadu Buhari, urged Nigerian universities to intensify research.
In his speech, the Vice Chancellor of the University, Professor Ibrahim Njodi, appealed for sustained support and funding of the institution to improve learning standards.
The university also conferred honorary degrees on the Chancellor of the University, Alaafin of Oyo, Oba Lamidi Adeyemi, the Emir of Kano, Muhammad Sanusi II, and Professor Russel Galen while former Head of State, late General Murtala Mohammed, bagged a posthumous Doctor of Laws award.
In acceptance remark, the Emir of Kano saluted the courage of the new graduates and the university community for defying insecurity threat to pursue their goals.
The University is graduating a total of 37,259 students spread across five sets of 2009/2010 and 2014/2015 academic sessions from 12 colleges and faculties, distance learning centre and 23 affiliated colleges. In all 172 students obtained first class degrees.
According to officials, UNIMAID's 22nd combined convocation was a fallout of the improved security situation in Borno State.
The 21st convocation ceremony was held in October 2010 as the university could not hold any convocation due to the lingering security challenge in the region.