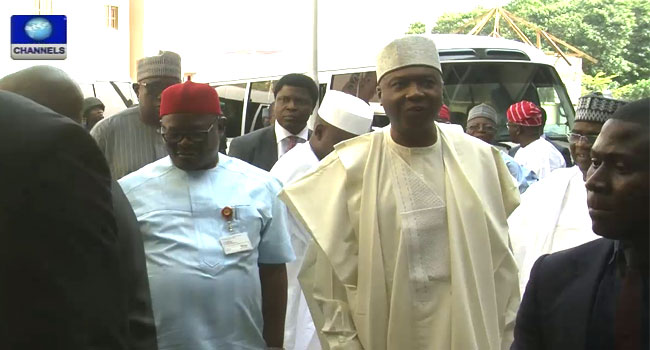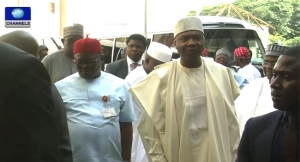 Some supporters of Nigeria's Senate President, Bukola Saraki, on Monday besieged the Code of Conduct Tribunal to protest against his trial for alleged false declaration of assets while in office as the Governor of Kwara State.
The peaceful protesters, showing solidarity with the Senate president, had placards with different inscriptions – "Nigerian youths and students stand firm with Saraki. Let the Senate continue working and no to the ongoing witch hunt of Saraki".
They also chanted songs in Hausa language.
But their protest did not stop the prosecution from leading one of its witnesses in presentation of evidence against the defendant.
A prosecution witness, Michael Wekpas, continued his testimony before the Tribunal and tendered 17 documents to support his claim that the Senate President did not declare all his assets and in some cases made anticipatory declaration.
Mr Wekpas told the Tribunal that there were instances where the Senate President declared some property at the beginning of his tenure as Governor in 2003 and left others out, which he later declared in 2007 and 2011 respectively.
He also alleged that the Senate President made anticipatory declaration of his property on McDonald Street, Ikoyi, which were numbers 15a and 15b, when the records of the presidential implementation committee on the sales of Federal Government property revealed that the property was only listed as number 15.
He told the Tribunal that out of the two property belonging to the Senate President at numbers 1 and 3 Targus Street, Maitama, the Senator Saraki consistently declared only number.
According to him, even though the Senate President was not the Managing Director of one Carlisle Properties and Investment Limited, by his own admission, he had controlling shares and was the beneficiary of the funds accruing to the company.
Immediately after the examination in chief ended his testimony, the defence began its cross examination.
In his response to questions asked by the defence lawyer, the witness said he did not receive any correspondent from the Kwara State government of any missing funds, neither did he conduct a forensic examination on Kwara State accounts.
He also told the Tribunal that he was not aware that the Kwara Freedom Network, the organisation that petitioned the anti-graft agency, is a fictitious organisation.
The witness, however, said that there was substance in their petition which had been revealed by the investigation.
The defence, however, asked for time to study the documents rendered as evidence before the case would continue.
But the Chairman of the Tribunal, Justice Danladi Umar, said the trial would continue on a day-to-day basis.