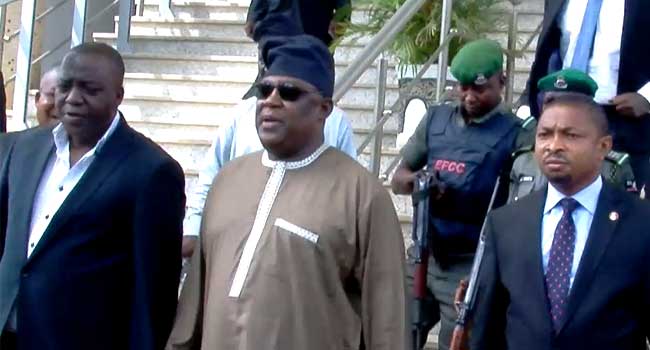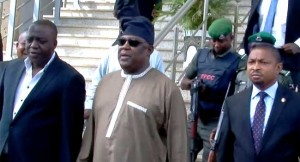 The trial of the immediate past Chief of Defence Staff, Air Marshal Alex Badeh, has been stalled, as Justice Okon Abang of the Federal High Court sitting in Abuja adjourned the case to 27 April.
Justice Abang told the court on Wednesday that further cross-examination of prosecution witness of the Economic and Financial Crimes Commission (EFCC), Air Commodore Salisu Yushau, will continue on the new date.
Justice Abang, who adjourned proceedings shortly after counsels in the matter announced their appearances, said though the court was ready to take further cross-examination of the witness, the court had to rise in preparation for other assignments for the next day.
At the last adjournment, the witness under cross-examination admitted that most of the statements he made as evidence in court were not contained in his earlier statement with the EFCC.
Counsel to the first defendant, Akin Olujimi, told the court that Yushau so far made five distinct statements with the EFCC.
When asked by the Defence Counsel the reason he left out substantial part of the evidence when he made the statement, he said that his answers were only based on the questions he was asked at the EFCC.
The defence is expected to continue their cross examination of the witness when the case resumes next week.
Air Marshall Badeh is standing trial for alleged use of funds meant for the Nigeria Air Force to purchase choice property in Abuja, Nigeria's capital city.
According to the EFCC, he illegally used six million Naira to renovate his son's house, which he purchased for 260 million Naira in Abuja between January and December 2013.
The former Defence Chief is also alleged to have used 876 million Naira belonging to the Nigerian Air Force to build a shopping mall in Abuja.