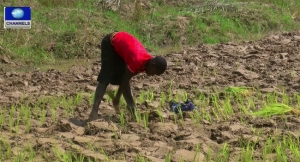 The Ministry of Agriculture in Nigeria is assessing the Dry Season Farmers Anchor Borrowers Programme aimed at increasing the cultivation of wheat and rice in Nigeria and reducing importation.
At the assessment of the programme in Kebbi State, the Minister of Agriculture, Mr Audu Ogbeh, condemned the huge importation of rice, describing it as a major factor crippling the nation's economy.
The assessment is to enable the ministry identify the success of the programme and grey areas that need to be addressed.
Also the Governor of the Central Bank of Nigeria, Mr Godwin Emefiele, said Nigeria had the capacity and capability to cultivate wheat and rice for the nation's consumption if the programme would be adequately sustained.
The Governor told Channels Television that there were over 70,000 farmers in Kebbi State that benefited in the programme with over 500,000 direct jobs created.
Over the years the importation of rice had become one of the major factors that affect Nigeria's economy.
Though blessed with both natural and human resources, the country still spends about $5 million on the importation of rice on a daily bases.
This is one of the major reasons behind the presidential launch of the dry season rice farming which is aimed at empowering farmers towards the cultivation of rice.
The Chairman of Kebbi State Farmers Borrowers, Danjuma Ahmed, said the programme had to accommodate more farmers for maximum output.
With the laudable development, Nigerians will hope the campaign promise of change the present administration made would be sustained in the agricultural sector