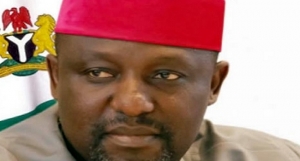 Nigerian youths have been advised to support President Muhammadu Buhari's fight against corruption at all levels and put aside all political, religious and ethnic differences.
Governor Rochas Okorocha made the call at the inauguration of Imo State chapter of the Youths Assembly of Nigeria (YAN) in Owerri the state capital in southeast Nigeria.
The Governor, through his Chief of Staff, Mr Uche Nwosu, said that the anti-corruption war by the Buhari led administration was a positive move and a step in the right direction to recapture Nigeria from the hands of those who were hell-bent on truncating and mortgaging the future of the youths.
He observed that the youths had obviously been neglected by previous governments over the years and had been sidelined in the scheme of things.
Okorocha advised them to see themselves as partners in rebuilding Nigeria while he urged them to always guard against actions and utterances that were capable of derailing the visions of the present government.
The Governor believes that the Buhari led administration mean well for the youths and the entire nation.
He called for patience and perseverance even in the face of the present economic challenges, expressing optimism that Nigeria would come out stronger and better.