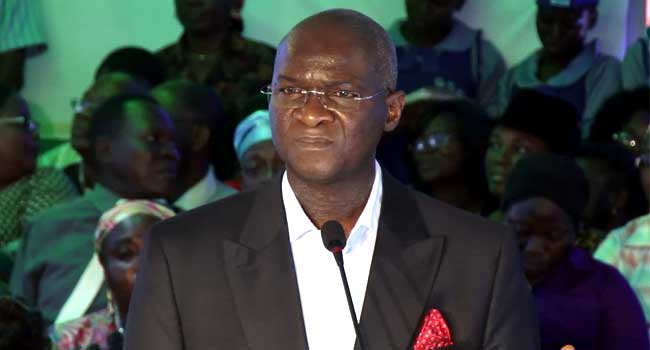 Works, Power and Housing Minister, Babatunde Fashola has acknowledged difficulty in handling the power situation in Nigeria and hinged the challenges on low power generation.
The Minister spoke during the first in the series of the Federal Government town hall meetings held on Monday in Lagos State, Nigeria's commercial city.
During his presentation, Mr Fashola told the gathering that the 5,000 megawatts of electricity currently being generated was inadequate to address the nation's power problems.
"I acknowledge that we are in a result-driven business and perhaps today results are measured by 'in my ministry, how many roads have been finished? How much power do you have, how much housing can you get?'
"Those results are not yet delivered but I assure you they will be delivered.
"Some results are becoming evident to us in government and they may seem intangible to those outside government and I understand that. They are results of clearly understanding why we are where we are.
"Should we continue to do what was done in the past if it hasn't solved the problem?
"ECN, the precursor to NEPA and PHCN was inaugurated by ordinance in 1950; that's 66 years. So why hasn't the problem been solved in 66 years? Why did we inherit it?
"So I am looking at some of the things that have been done well and some that could have been done better but I will summarise the power issue simply in one word.
"There is not enough power. 5,000 megawatts for 170million people is just not enough. The solution is delivering more power on an incremental and sustained basis," Mr Fashola said.
The town hall meeting is expected to hold in six geo-political zones and two other cities, Abuja and Kano.
It is an interaction between the government and persons from different sectors of the economy.
The Minister of State for Petroleum, Dr. Ibe Kachikwu; Minister of Foreign Affairs, Geoffrey Onyeama; Minister of Industry, Trade and Investment, Dr Okechukwu Enelamah and Minister for Transportation, Chibuike Amaechi were also in attendance.