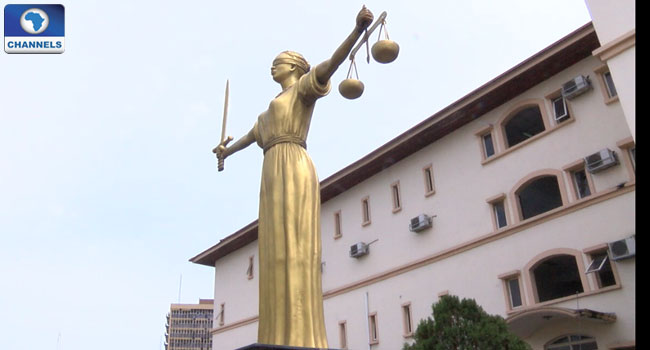 The Federal High Court in Lagos has struck out a preliminary objection filed by the Attorney-General of the Federation (AGF) in a suit by Bi-Courtney Services Ltd.
The AGF filed the objection in November 3, 2015, urging the court to make an order dismissing or striking out the suit for being statute barred.
The defendant said Bi-Courtney lacked the locus standi to prevent the Federal Government from rehabilitating or reconstructing the Lagos-Ibadan expressway which is a public infrastructure.
AGF said the plaintiff lacked reasonable cause of action that could sustain the reliefs sought, urging the court to hold that the defendant was not a juristic person.
Ruling on the preliminary objection on Monday, Justice Ibrahim Buba held that the objection lacked merit.
The court held that having carefully read all the processes filed as well as arguments of counsel, it was clear that the action was commenced to protect the "res" or reliefs in a sister case.
The court held that the suit could not be heard without making reference to the pending suit.
Justice Buba, accordingly, dismissed the preliminary objection and held that it was academic.
Bi-Courtney commenced court action in 2012 to redress the Federal Government's purported termination of the Lagos-Ibadan Expressway project.
It is contending that the purported concession granted to Motorways Limited through the Infrastructure Bank did not go through any due process.
It said it was never advertised in newspapers as the Infrastructure Concession Regulatory Commission Act expressly provides that concessions in Nigeria must be advertised in two national dailies.
The commission, the plaintiff said, must also issue a no-objection approval before the concession is taken to the Federal Executive Council for approval. None of these elementary steps were taken, Bi-Courtney said.
Justice Buba adjourned the case till May 12 for hearing.