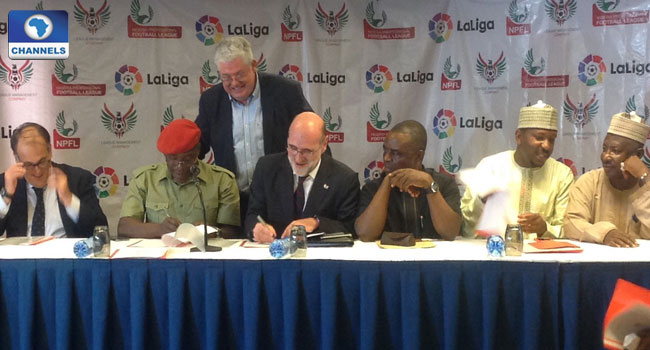 Representatives of the governments of Nigeria and Spain witnessed the landmark signing of a Memorandum of Understanding (MOU) for a five-year technical and commercial partnership between the League Management Company of Nigeria (LMC) and the Spanish League Board (LFP).
Chairman of the LMC, Shehu Dikko, singed for the Nigeria Professional Football League (NPFL) while the President of LaLiga, Javier Tebas signed for the Spanish League, with Nigeria's Minister of Youth and Sports, Solomon Dalung, and the Spanish Ambassador to Nigeria, Alfonso Barnuevo Sebastian de Erice, counter- signing as witnesses for their respective national leagues.
A New Page In History
Highlighting the long standing sporting relationship between the two leagues was the presence of some former Nigerian international players who at some stages in the past played for La Liga clubs – Victor Ikpeba, who played for Real Betis, Mutui Adepoju, who played for Racing Santander and Real Sociedad, Gbenga Okunowo and Haruna Babangida, both of whom played for Barcelona clubs.
While Dalung described the relationship as "a new page in the history of football administration in Nigeria, Banuevo offered assurances that the partnership would produce "a win-win outcome" for both Nigeria and Spain.
For Dikko, the LMC chairman, the NPFL and La Liga partnership marks the beginning of "a journey through a new road hitherto not travelled in an effort to deliver on our mandate to improve the quality and fortunes of the football league in Nigeria along international best practices."
"We are pleased to be leading reforms and to achieve that, we decided to align with global best practices by emulating those doing things well and right. We have a lot to learn and benefit from the La Liga and we believe that the La Liga also has some things to learn from us," Dikko said.
The partnership agreement, which will run for five years will in the first instance focus on key areas of capacity development, training for coaches and club administrators; inter club exchanges and commercial activities including joint marketing.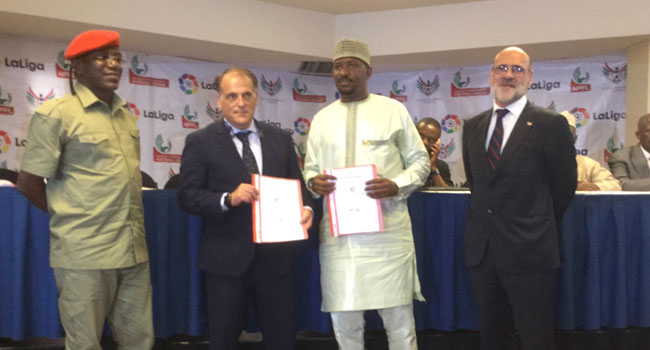 "There is a fight for the heart and pocket of Nigerians to love and buy into our domestic football league and La Liga is ready to work with us on that.
"Stakeholders are already getting interested, as they have seen one of the best leagues in the world associating with us.
"This will help us move forward and many more good things will follow. We shall move from this point to a point where we will in turn begin to support other leagues in Africa," the LMC Chairman stated.
Tebas said that the La Liga will through the partnership provide assistance to the NPFL in the areas of training of Coaches, club administrators and exchange of playing tours by La Liga and NPFL Clubs.
"For us at La Liga, if through this partnership, the NPFL is developed, it is of benefit for La Liga," declared the Spanish League President.
He said: "We would also be assisting Nigerian players where possible to get chances to play for La Liga Clubs".
Ambassador Barnuevo, who had earlier received officials of the LMC and the La Liga on Monday and further graced the signing ceremony, said he was pleased to witness the epoch making event.
"I know how Nigerians love football and I can tell you that in this relationship, Nigeria and Spain will win. We already have strong social and economic relations and this MOU will further strengthen our sporting ties. We take this relationship serious because the La Liga is one of the most important companies in Spain."
Nigeria's Youth and Sports Minister, who had also received officials of both leagues in his office on Monday, also expressed delight at the consummation of the agreement and gave assurances that the partnership would unbundle and open up platforms for the exchange of ideas to engage young Nigerians.
"It will transcend beyond football to other areas and while we shall be relying on the expertise of the La Liga to improve our league, we also have something to offer which will benefit La Liga."
The signing of the partnership, he said, was " a mark of confidence and trust in Nigeria football and we look forward to more robust engagement in future".