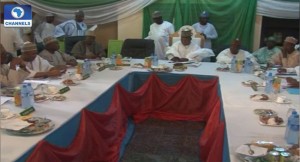 The Northern Governors Forum has condemned in strong terms attempts by some leaders from south-east Nigeria to blame President Muhammadu Buhari for a recent bloody attack on Ukpabi Nimbo community in Enugu State.
They also condemned an attempt to link Fulani herdsmen with the attack that left scores of people dead or similar attacks at other part of Nigeria.
In a communique read to reporters by the chairman of the forum and Governor of Borno State, Kashim Shettima, after a closed door meeting that lasted for over five hours, in Kaduna, the governors noted the danger of labeling the masterminds of the Enugu attack as Fulani herdsmen on account of religion or tribe.
The governors while condemning the recent attacks in Agatu community in Benue State and that of Enugu State, called on security agencies to fish out the perpetrators of the attack in order to stop the dangerous generalisation or labelling certain tribe or people of certain faith as responsible for the attacks.
According to the Northern Governors Forum, linking the gunmen attacks to Fulani herdsmen, could cause mistrust and likely incite people of different tribes and faith who have lived together peacefully for decades.
The governors also supported the idea of building ranches and grazing routes for herdsmen, as a long term measure to address the frequent clashes between them and local farmers.
Critics had raised concerns over President Buhari's silence on the alleged herdsmen attacks.
'A Priority'
But the President on Wednesday reassured Nigerians of his administration's continued commitment to ensuring the safety of lives and property in all parts of Nigeria.
According to a statement by President Buhari's spokesman, Garba Shehu, the President unreservedly condemned the attack on Ukpabi Nimbo and other such acts of extreme violence against communities in other states of the Federation.
President Buhari, however, instructed the Nigerian Armed Forces and Police to take all necessary action to stop the killing, saying that ending the recent upsurge of attacks on communities by herdsmen reportedly armed with sophisticated weapons had become a priority on the government's agenda for enhanced national security.
After the President issued the statement, Nobel Laureate, Professor Wole Soyinka, faulted Buhari's assurances and said it was unacceptable, as it failed to provide any reassurance for Nigerians.
"Neither, however, could be considered a message of solace and reassurance for the ordinary Nigerian farmer and the lengthening cast of victims, much less to an intending tourist to the Forest Retreat of Tinana in the Rivers, the Ikogosi Springs or the Moslem architectural heritage of the ancient city of Kano. In any case, the external tourists have less hazardous options," Professor Soyinka stressed.
Professor Soyinka spoke at the National Conference on Culture and Tourism, in Osogbo, Osun State.