Nigeria's Defence Chief Visits Niger, Cameroun To Deepen Military Ties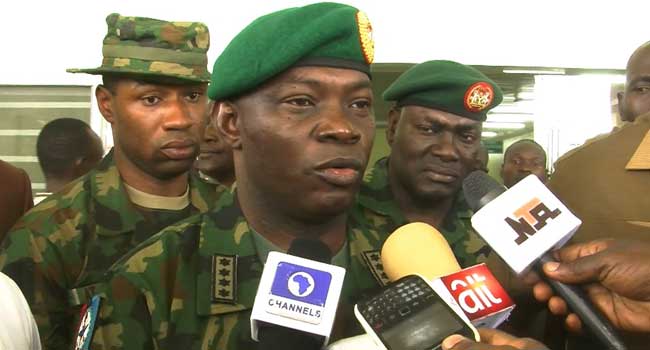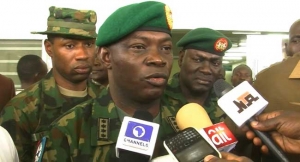 Nigeria's Chief of Defence Staff, General Gabriel Olonisakin, has sought ways of strengthening the existing bi-lateral cooperation between Nigeria, Niger Republic and Republic of Cameroun.
The Defence Chief made several requests during official trips to both countries.
In Niger Republic, General Olonisakin met with the President of the country, Mahamadou Issoufou and the Chief of Defence Staff, General Seyni Garba and discussions on issues that concern the two countries were highlighted.
General Olonisakin thanked the Niger President for the role his country was playing in counter-terrorism operations in Lake Chad Basin and the country's role in the formation of Multi-National Joint Task Force (MNJTF).
Nigeria's CDS expressed delight that Boko Haram had been significantly decimated, a feat, he stressed, called for stronger ties between Nigeria and its neighbours to ensure that no safe haven was provided for the retreating Boko Haram terrorists in the sub-region.
A statement by the Acting Director Defence Information, Brigadier General Rabe Abubakar, said General Olonisakin solicited for improved intelligence gathering and sharing, air asset operations and counter-Improvised Explosive Devices (IEDs) operations within the Lake Chad Basin countries and across ECOWAS States.
While in Cameroun, Nigeria's CDS was received by the Camerounian Honourable Minister of Defence, Edgard Allain Mebe Ngo'o and the country's Chief of Defence Staff, General Rene-Claude Meka where similar discussions, as in Niger Republic, were held.
One of the highlights of the discussion in Cameroun, however, was in the area of stronger cooperation in maritime environment, especially in the Gulf of Guinea, to tackle the incessant case of bunkering, oil theft and piracy. General Olonisakin has since returned to Nigeria.
Nigeria's President, Muhammadu Buhari, had on Thursday in Abuja said a Multinational Task Force would soon be established to patrol the waters of the Gulf of Guinea.
At a meeting with the French Minister of Defence, Mr Jean-Yves Le Drian, President Buhari said that patrols by the task force would augment and boost ongoing efforts to improve security in the Gulf, and curb crude oil theft and piracy.