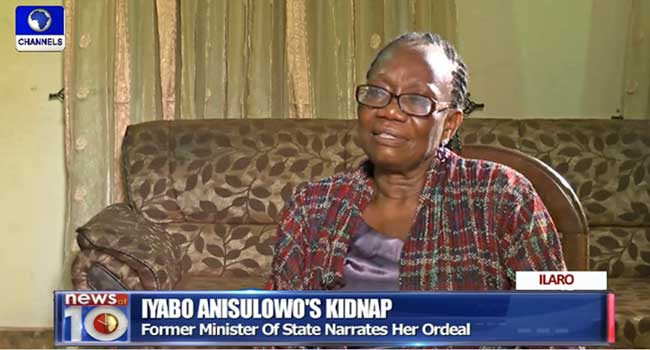 Former Minister of State for Education, Mrs Iyabo Anisulowo, has described her abduction as one that tells the story of the grace of God upon the lives of men.
In an exclusive interview with Channels Television, she narrated how the kidnappers took her and all that happened while she was away in captivity.
She said it was a difficult experience as she lived only on water for days but that she had forgiven her captors.
From the multiple locations she was taken, to the negotiations for ransom and the treatment she got from the gunmen, she described the kidnap experience as a tough one.
The former senator regained her freedom on Tuesday evening after she was rescued in a town called Gbegbelawo near Olorunda Town in Ogun State.
Although she was not tortured by the kidnappers, she showed injuries she sustained on the motorcycle while she was being transported across the forest in Ogun State, adding that the tools used to keep her captive were also difficult to bear.
"We fell down many times and the silencer (exhaust pipe) of the bike burnt me and they didn't allow me to cry. They said I should shut up because they didn't want anyone to see them.
"I was confused because I never thought such could happen, especially in my area," she said, revealing how the kidnappers demanded the sum of 100 million Naira ransom from her and compelled her to rally friends and relatives to pay the money.
Senator Anisulowo, who represented Ogun West Senatorial district between 2003-2007 at the Senate, was kidnapped alongside her security aide in Igbogila area of Ogun state.
She was abducted while returning from her farm by four armed men and spent seven days with her captors.