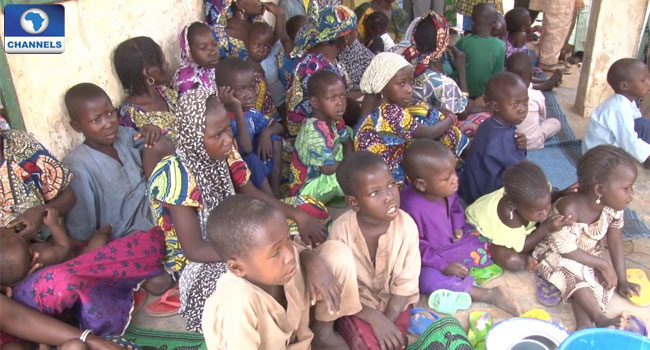 Thirty four women and girls with 28 children have been rescued by Nigerian troops and are currently being interrogated and profiled at the 7 Division headquarters Maiduguri.
Federal troops on a long range rescue mission in the theatre of operation rescued the women and young girls including children held hostage by the outlawed Boko Haram in a village called Walasa.
Two among those rescued, are Cameroonians while the other women were snatched from different villages around Borno and forcefully married off to their captors.
Some of thechildren rescued along with the women were sired by their Boko Haram husbands.
Theatre Commander of the Operation Lafiya Dole, Major General Lucky Irabor, who presented the abducted women to journalists with their identities concealed said that the plan is to reunite them with their families.
The Army has already set up a post-trauma and psycho-social centre for the traumatised women in addition to general medical check-up.
One of the rescued women, Aisha Walasa, recounted how she was abducted from her hometown and married off to one of her abductors.
"They took us from home and married us off forcefully. Today I am very happy the soldiers have rescued us," she said.
Hundreds of women and girls, including the Chibok school girls are still in Boko Haram captivity.
Interactions with some of those rescued have shown that abductees might have been brainwashed and indoctrinated, hence stalling rescue efforts.
According to Commander Irabor, since the commencement of the 'Operation Crack Down', all formations and units in 'Operation Lafiya Dole' have been making efforts to degrade the combat capability of Boko Haram within the Sambisa Forest and other enclaves in the North East.