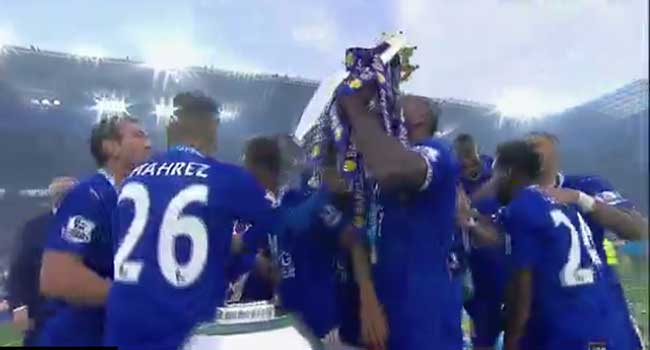 Leicester City have been officially decorated as Premier League champions for the first time in their history.
They received the Premier League trophy on Saturday evening after a 3-1 victory over Everton at the King Power Stadium.
Thousands of fans gathered at the King Power Stadium for their final home game to witness the historic event.
Captain Wes Morgan and manager Claudio Ranieri lifted the trophy as the team celebrated.
The Foxes emerged champions without kicking a ball after Tottenham could only manage a 2-2 draw with Chelsea at Stamford Bridge on Monday.
Spurs, the only title challenger left, had gone into the London derby needing an outright win to remain in the title race but a remarkable comeback from Chelsea saw them forfeiting a 2-goal lead.
Leicester won the title in what has been described as one of the greatest sporting triumphs of all time, starting the season as 5000/1 outsiders.
The 25kg Premier League trophy, topped by a golden crown, is decorated with blue ribbons for Leicester, and yellow ones to represent the royal house of Thailand, which is the country of club owners King Power.
It was engraved on Friday, in preparation for Saturday's presentation.
Claudio Ranieri's boys set a record to become the champions of England for the first time in 132 years.
The Premier League champions title parade will hold on Monday, May 16 – the day after their final match of the season at Chelsea.
Claudio Ranieri's squad will travel on an open-top bus through the city before taking the stage at Victoria Park.