Nigeria's President, Muhammadu Buhari, has arrived in London for the Anti-Corruption Summit which will begin at the Lancaster house on Thursday.
President Buhari's jet touched the Heathrow airport at 5:10pm, local time and he was received by the Minister of State Foreign Affairs, the National Security Adviser, Chairman of the Economic and Financial Crimes Commission and the Acting High Commissioner of Nigeria to the United Kingdom (UK).
In an interview with reporters on arrival in London, the Special Adviser to the President on Media and Publicity, Mister Femi Adesina, said the fact that the President was invited to speak at the summit laid credence to President Buhari's commitment to the fight against corruption.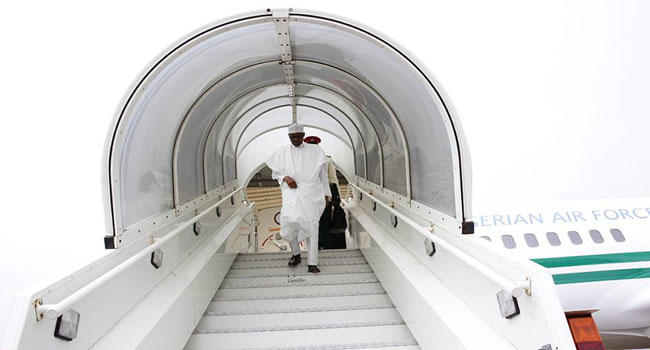 President Buhari is attending the Summit amidst comments by the British Prime Minister, Mr David Cameron that described his nation as 'fantastically corrupt'.
Mr Cameron was caught on camera telling Queen Elizabeth that UK would host some 'fantastically corrupt' countries on Thursday, mentioning Nigeria and Afghanistan as part of that category.
The Nigerian government had responded to that comment, saying it did not reflect the current administration's efforts in the fight against corruption.