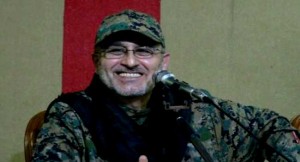 A man believed to be Hezbollah's most senior military commander in the Syrian war has been killed in Damascus.
The Lebanon-based militant group says in a statement that Mustafa Amine Badreddine died in a large explosion near Damascus airport.
Badreddine is charged with leading the assassination of former Lebanese Prime Minister, Rafik Hariri in Beirut in 2005.
Hezbollah supports Syria's president, Bashar Al-Assad and has sent thousands of fighters into Syria.
The US Treasury, which imposed sanctions on Badreddine last July, said at the time he was "responsible for Hezbollah's military operations in Syria since 2011, including the movement of Hezbollah fighters from Lebanon to Syria, in support of the Syrian regime".
The group said it was working to "define the nature of the explosion and its cause, and whether it was the result of an air strike, or missile (attack) or artillery".