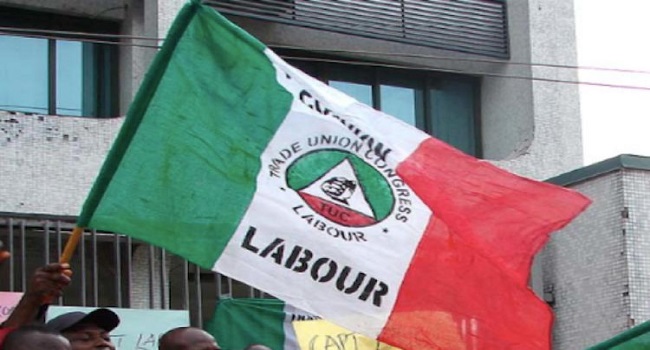 The Nigeria Labour Congress has issued the Federal Government a 4-day ultimatum to revert to the old petrol pump price of 86.50 Naira or risk a nationwide protest.
The ultimatum will expire on Tuesday midnight.
After the Nigerian government announced a new price band of 145 Naira per litre on May 11, the labour union kicked against the increase, saying it will resist it.
"Height Of Insensitivity"
It said the unilateral increase in prices of petroleum products "represents the height of insensitivity and impunity".
The new price band of 145 Naira per litre for Premium Motor Spirit was announced by the Minister of State for Petroleum Resources, Dr. Ibe Kachikwu.
No fuel service station is, however, allowed to sell above the price band, the Minister stressed.
He had explained that the increase had become necessary due to the scarcity that had lingered for months caused by unavailability of the product occasioned by the challenges of getting foreign exchange and low production capacity of the refineries in the oil producing nation.
Dr. Kachikwu had assured Nigerians that in the next six months, competition would force the price down.
However, the labour union said the increase was the least one had expected at this point in time, insisting that the reason for the increase was unacceptable.
Not Removal Of Subsidy
The unions four-day ultimatum came a day after the Vice President, Professor Yemi Osinbajo, further gave reasons for the increase which critics said carried with it 'hardship'.
He said: "I have read the various observations about the fuel pricing regime and the attendant issues generated. All certainly have strong points.
"The most important issue of course is how to shield the poor from the worst effects of the policy. I will hopefully address that in another note".
Professor Osinbajo explained that the real issue was not a removal of subsidy, pointing out that with $40 a barrel there was not much of a subsidy to remove.
Petroleum Sector Unions Back Price Hike
Meanwhile, the Petroleum and Natural Gas Senior Staff Association of Nigeria and Nigeria Union of Petroleum and Natural Gas Workers, which are part of the labour unions, have supported the new petrol pump price by the Federal Government.
The voiced support formed part of a communique released by the two bodies at the end of a Joint National Executive Council Meeting held on Friday in Calabar, the capital of Cross River State in southern Nigeria.
The communique stated: "The increment was a step in the right direction.
"Government needs to engage with stakeholders to work out a clear direction on how to invest the gains into the economy to cushion the effect of the price".