Nigeria, France To Strengthen Agreements In Defence Matters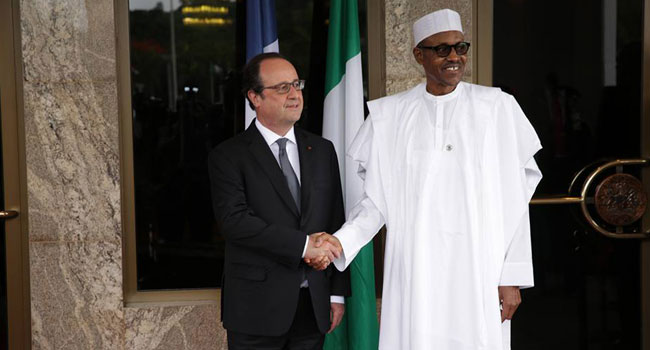 Nigeria and France will sign a letter of intent that will further strengthen the agreements in defence matters between both countries.
Addressing journalists on Saturday, after holding talks with President Muhammadu Buhari at the Presidential Villa in Abuja, President of France, Francois Hollande, said the letter embodies the operation between the two countries.
He did not give details of the agreement.
Providing Intelligence
The French President, however, stated that France had been supporting the counter-insurgency activities by providing intelligence, equipment and training for the mission of the Multi-National Joint Task Force.
Mr Hollande further pointed out that the Boko Haram group had been forced to lose ground and forced to give up territories they were controlling.
He said the regional summit on security holding in Abuja, Nigeria's capital on Saturday would afford the leaders an opportunity to discuss further on the Multi-National Joint Task Force.
Discussions at the Security Summit are expected to focus on the formal deployment of a new regional force comprising troops from Nigeria and her neighbours.
Mr Hollande played a major role in the formation of the task force that had added impetus to counter-terrorism operations against the insurgents in Nigeria's north-east.
He had in 2013 called a meeting of the leaders of Nigeria and its neighbours to figure out a strategy that would end the cross-border movement of terrorists.