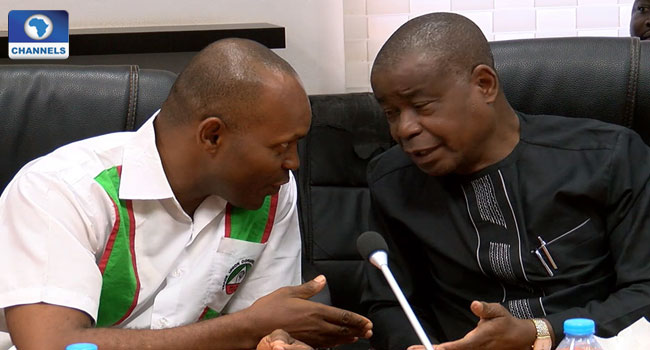 Talks between the Federal Government and labour unions as part of efforts to avert the planned strike by Nigeria Labour Congress to resist an increase in the price of petrol are continuing on Tuesday.
The meeting was rescheduled after both parties could not reach an agreement in an earlier meeting on Monday.
According to Channels TV correspondent, the dialogue, which held in the office of the Secretary to the Government of the Federation (SGF), had in attendance the SGF, representatives of the Nigeria Labour Congress (NLC), the Trade Union Congress (TUC), PENGASSAN, as well as the Governor of Edo State.
The SGF is leading a delegation of ministers and other representatives of the federal government in the meeting with the union leaders.
While appealing to the workers' union leaders to put the nation's interest ahead of theirs as they went into the meeting, the Secretary to the Government of the Federation, Babachir Lawal, said that the decision to deregulate the petroleum was the only option for the government to tackle the nation's financial predicament.
However, the President of the NLC said that the meeting would present them the opportunity to table issues in the minds of the workers to the government.
Organised labour has set Wednesday, May 18 to go on an indefinite strike if the federal government fails to meet its demand of reverting the pump price of petrol to 86.50 kobo per litre.
On Sunday, the National Vice President of the NLC, Mr Amechi Asugwuni, warned that Nigerian workers would down tools if the government failed to revert to the old price.
Before the increase in the price of petrol on May 11, the union had earlier proposed a new minimum wage of 56,000 Naira, insisting that the increment was long overdue.
PENGASSAN, NUPENG, the Pilots and Engineers unions had supported the decision of the government to increase petrol pump price, something that many have seen as an obstacle in the way of the Nigeria Labour Congress' resistance to the increase.