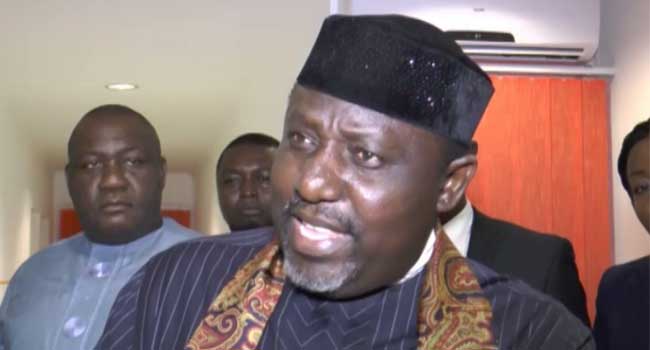 The Governor of Imo State, Mr Rochas Okorocha, says for government to achieve any meaningful impact on the lives of Nigerians, there must be a reduction of its workforce.
Okorocha told Channels Television Johannesburg Bureau Chief, Betty Dibia, in South Africa that the removal of fuel subsidy and government's announced palliatives do not necessarily mean states will earn more.
He highlighted one of the issues which he believes has affected the economy of states.
"The problem we have in Nigeria is that we have recurrent welfarism states and there is no capital aspect of the project. So what you do every day is salaries.
"A situation where you collect 2.6 billion and you have to pay 5.6 billion, so you have to look for 3billion every month (borrowed) is just not feasible.
"The number of workers in the civil service can as well go to the productive sector of the economy but nobody wants to hear this.
"We should create jobs but civil service jobs is not job creation, it is job creation on the basis of sentiment and politics.
"If we want to create real jobs, lets create jobs in the agricultural sector and the manufacturing sector. If we can take 70% of the population of the workers in the civil service and bring them to the manufacturing sector, then their salaries can go to 200,000 to 500,000."
He explained further why states should not be asked to pay the 56,000 Naira minimum wage across the board as being demanded by the labour unions.
"I don't believe that this salary across the board is the right thing. Lagos is a very rich state, they can afford to pay 100,000. Akwa-Ibom can afford to pay 200,000 and so many states in Nigeria
"Imo State gets about 2.6 billion Naira every month when other states get about 13 billion. So what I get in one year is what some states get in one month.
"What the entire South-East collects in one month is not up to what Rivers collects in one month. So we cannot put everybody on the same level, it should be according to their states.
"Then if we must pay that money – 56,000 – 100,000 as the case may be, we must address the issue of this overpopulated workforce," he said.