Petrol Price Increase: NANS Holds Peaceful Protest In Owerri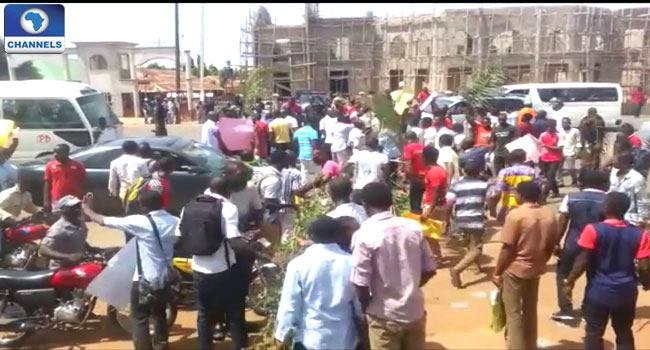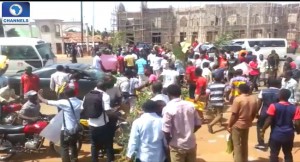 The National Association of Nigerian Students, Imo State Chapter, has staged a peaceful protest against the recent hike in the price of Premium Motor Spirit (PMS) also referred to as petrol by the Federal Government.
The youths in their numbers took to the streets of Owerri the capital of Imo State, causing heavy gridlock and carrying placards with various inscriptions.
Contrary To Campaign Promises
They expressed their support for the planned strike by the Nigeria Labour Congress against the increase of the price of PMS from 86.50 Naira to 145 Naira per litre.
The Labour union had issued the Federal Government a 4-day ultimatum to revert to the old petrol pump price of 86.50 Naira or risk a nationwide protest.
The ultimatum will expire on Tuesday midnight.
After the Nigerian government announced a new price band of 145 Naira per litre on May 11, the labour union kicked against the increase, saying it will resist it.
According to the protesting students the All Progressives Congress (APC) is delivering what is contrary to their campaign promises as regards the fuel price issue.
Recalling that the APC had promised to reduce the price of petrol to 40 Naira per litre during the campaigns, insisting that the increase was a plot by the Federal Government to cause untold hardship on the Nigerian masses.
The students during the protest also called on the Imo State government to resolve the lingering crisis between the government and Academic Staff Union of Universities, Imo State Chapter which they claimed had kept the Imo State University under lock and key for months, keeping students idle and non-productive.