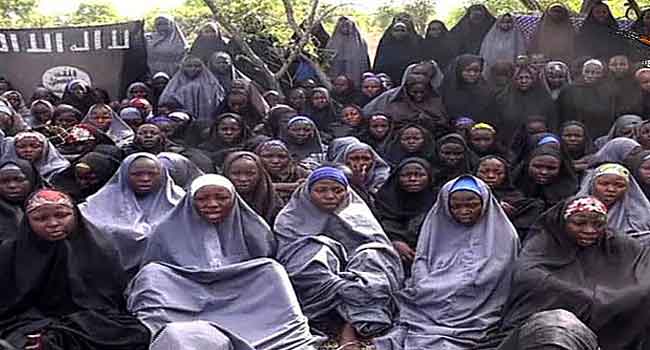 The Nigerian Army has confirmed the rescue of another of the over 200 girls abducted in Chibok Local Government of Borno State in 2014.
This is coming barely a day after Amina Ali, also one of the abducted girls, was rescued.
The Acting Director, Army Public Relations, Col. Sani Usman, confirmed the rescue to our correspondent via a text message.
It was gathered that there was a major military operation in a part of the area where she was found, but it was not clear if this rescue is a fallout of the said exercise.
The rescued girls were abducted along with over 200 of their schoolmates in the Government Girls Secondary School, Chibok in the middle of the night in April 2014.
Amina was rescued with a four-month old baby, who has been certified healthy by officials of the military medical team.
She met with the Borno State Governor, Mr Kashim Shettima on Wednesday and President Muhammadu Buhari on Thursday.
President Buhari promised that the Federal Government will be responsible for her education and upkeep.
He also promised that the Federal Government would do everything possible to ensure that the rest of Amina's life takes a completely different course.
He further promised to give the rescued Chibok girl the best medical, psychological and emotional care, amongst other things she requires to be fully reintegrated into the society.
Forced By Hunger
Military sources in Damboa, who accompanied Amina to Maiduguri, told Channels Television that "Hayatu, one of the Boko Haram commanders also known as "Amir" reportedly escaped with his wife from Sambisa forest and surrendered to Civilian Joint Task Force members in Balle, a village in Damboa.
The commander of the outlawed group stated hunger and ill health as reasons for his action as according to him his family would have starved to death following the blocking of supply routes by intensive military operations.
Our correspondent in Maiduguri, Blessing Tunoh, reports that a member of the Civilian JTF, involved in the rescue said "six of her classmates have died in captivity", adding that "throughout their stay in Sambisa Forest, they were heavily guarded".