President Buhari Meets Rescued Chibok Girl, Offers Scholarship
President Muhammadu Buhari has promised that the Federal Government will be responsible for the education and upkeep of Amina Ali, the Chibok girl who was rescued on Tuesday from the Boko Haram insurgents for the rest of her life.
The President made the announcement on Thursday after meeting with Amina, her mother and the Borno State Governor, Shettima Kassim, at the Presidential Villa in Abuja, Nigeria's capital.
He said that every girl has the right to education and should not be denied access to such.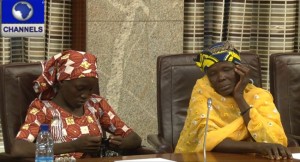 Full Reintegration
President Buhari assured that the Federal Government would do everything possible to ensure that the rest of Amina's life takes a completely different course.
He also promised to give the rescued Chibok girl the best medical, psychological and emotional care, amongst other things, she requires to be fully reintegrated into the society.
The President decried a situation where Amina's education was so abruptly truncated by Boko Haram, promising to make her education a priority of the Federal Government.
Amina is the first of the 219 Chibok girls to be rescued from the den of the Boko Haram terrorists.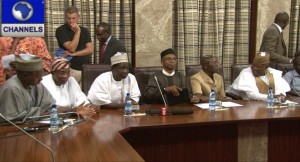 Some state governors were also at the meeting between the President and rescued mother of one.
Her rescue has been widely celebrated within the country and beyond and has raised renewed hopes about the other abducted girls.
19-year-old Amina was found by the civilian JTF with a four month old baby and a suspected Boko Haram terrorist, Mohammed Hayatu, who claims to be her husband.
Secretary of the Association of Parents of the Abducted Chibok Girls, Zanna Usman, confirmed that Amina told her rescuers that six of her colleagues died in Boko Haram's captivity.
The acting Director Army Public Relations, Colonel Sani Usman, says the alleged husband is undergoing further investigation at the Joint Intelligence Centre.
"Mohammed Hayatu is well treated in line with Operation Lafiya Dole Rules of Engagement regarding insurgents who voluntarily surrender to the military," the Army spokesman added.
After her rescue, Amina Ali, was handed over to Borno State Governor, Kashim Shetima, at Government house, Maiduguri, the state capital.
She was handed over on Wednesday evening by the Acting General Officer Commanding, 7 Division, Brigadier General Victor Ezugwu in a brief ceremony.
Prior to that they were examined at Air Force medical facility and were found to be stable and normal blood pressure was observed.
Forced By Hunger
Military sources in Damboa, who accompanied Amina to Maiduguri, told Channels Television that "Hayatu, one of the Boko Haram commanders also known as "Amir" reportedly escaped with his wife from the Sambisa forest and surrendered to Civilian Joint Task Force members in Balle, a village in Damboa.
The commander of the outlawed group stated hunger and ill health as reasons for his action as according to him his family would have starved to death following the blocking of supply routes by intensive military operations.